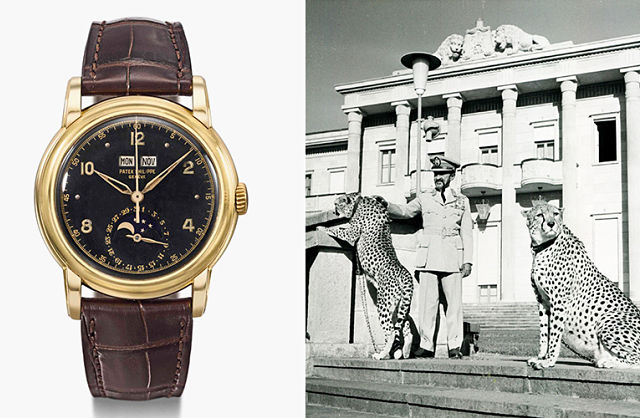 Tadias Magazine
By Tadias Staff
Updated: Saturday, November 7th, 2015
New York (TADIAS) — The grandson of Ethiopia's former Emperor Haile Selassie and his extended family are calling for the indefinite postponement of an imminent Christie's auction in Geneva involving a wristwatch that was their grandfather's personal possession, and one that they believe was illegally confiscated from him.
In a letter addressed to Mr. Thomas Perazzi, Head of Christie's Geneva Watch Department, Prince Ermias S. Haile Selassie requested that the auction of the watch — presently scheduled for November 9th, 2015 — be "postponed indefinitely in order to allow time for a proper adjudication of the actual ownership of the watch."
According to Christie's the watch, an 18k gold perpetual calendar Patek Philippe 2497, was commissioned in 1954 "as a gift for Ethiopian Emperor Haile Selassie, and presented during his official visit to Switzerland in November that year."
Christie's claims that years later the Emperor gave the vintage, personal timepiece as a gift to "an eminent personality, whose descendant is now disclosing it to the world." Today the watch is estimated to be worth between five hundred thousand and one million dollars.
In response to another family member's request to halt the auction Christie's insisted they will not disclose the name for "confidential reasons" maintaining that the auction is legitimate.
"Our specialists have run all the checks on the piece (authenticity, provenance and history of the watch)," wrote Stephane Von Bueren, the International Business Director of Christie's in Switzerland. "We own visual proof that the watch was given by his Highness to someone he knew very well at the time."
But the grandson, Ermias S. Haile Selassie, says he wants to know who that "eminent personality" might be?
"As it is well-known in Ethiopia's sad history, my grandfather was treated with unspeakable indignities and his property confiscated without benefit of law," Prince Ermias wrote. "Included in the properties stolen was belongings and personal property." He added: "Nothing was left."
"I recognize that Christie's-Geneva is a reputable auction house," Ermias continued. "I can only assume that Christie's is unaware of the history of provenance of this watch, and that it is probably illegally taken property." He warned the European art business institution stating: "I believe that Christie's would not want to be a party to any furtherance of these illegal transactions."
The family, we are told, has also retained attorneys in Geneva and are weighing several legal options. They have also contacted the Swiss Police as well as INTERPOL seeking assistance in launching an investigation.
—
Related:
Made for an Emperor — A one of a kind Patek Philippe Watch (Christie's Geneva)
New Book on Triumph & Tragedy of Ethiopia's Last Emperor Haile Selassie (TADIAS)
—
Join the conversation on Twitter and Facebook.