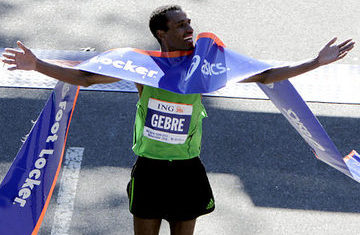 Above: Ethiopia's Gebre Gebremariam crosses the finish line
in Central Park in his marathon debut. (Associated Press)
BY Wayne Coffey
DAILY NEWS SPORTS WRITER
Originally Published:Sunday, November 7th 2010, 12:03 PM
Updated: Monday, November 8th 2010, 1:15 AM
He took his gloves off in the 23rd mile, flinging them into the air as if they were autumn leaves. His ski cap came off not long after. Soon Gebre Gebremariam was gone, shedding his two top competitors next, a rawboned Ethiopian ruling a remarkable race that included a stunning retirement, an indomitable miner and the largest field in the annals of sport.
"It's my first marathon, and I'm number one here," said Gebremariam, 26, not long after he crossed the finish line in two hours, eight minutes, 14 seconds, to capture the 41st ING New York City Marathon Sunday. "I am so happy to win."
In achieving his upstart triumph on a day when a record 45,344 runners started, the 5-10, 123-pound Gebremariam became the first rookie to win the race in 27 years, taking a prize that most figured would go to his 37-year-old countryman, Haile Gebrselassie, the marathon world record-holder and a man widely acclaimed to be the greatest distance runner in history.
Click here for NYC Marathon 2010: Results, Video, Photos
Related:
Video: Post Race press conference (TsehaiNY)