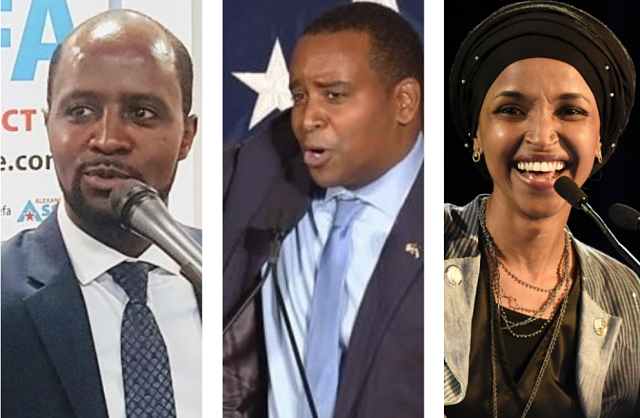 Tadias Magazine
By Tadias Staff
Updated: November 8th, 2018
New York (TADIAS) — Most people remember where they were ten years ago this November when they learned of the election of America's first Black president, Barack Obama, blazing a trail for a future generation of leaders.
This week also saw another historic election season in the United States with the ascension of a record number of women to Congress, including Alexandria Ocasio-Cortez of New York City, who at 29-years-old became the youngest woman elected to the U.S. House of Representatives.
In addition, the 2018 Midterm U.S. election held on Tuesday, November 6th resulted in many new civic leaders from diverse immigrant communities across America including the first elected Ethiopian, Eritrean and Somali-American representatives.
Ethiopian American entrepreneur Alex Assefa was elected as a state legislator in the Nevada State Assembly representing the state's 42nd assembly district. Alex who was born and raised in Ethiopia came to the U.S. in 2000 as a refugee. He replaces Democratic Representative Irene Bustamante Adams and will serve in the Nevada State Assembly on a two-year term.
In Colorado Joe Neguse, the son of immigrants from Eritrea, made U.S. history by becoming the state's first African-American member of Congress. According to 4CBS Denver, Neguse, who is an attorney and co-founder of a voter registration group, "defeated Republican Peter Yu in the 2nd Congressional District that includes Boulder, Fort Collins and parts of north-central Colorado."
And in Minnesota Ilhan Omar became the first Somali-American and one of the first two muslim woman to be elected to the U.S. Congress. Ilhan came to the United States as a teenager more than 20 years ago, and according to CNBC "In 2016, she became the first Somali-American, Muslim legislator in the U.S. She was elected to serve in Minnesota's House of Representatives in District 60B, according to her campaign website. In 2019, Omar will replace Minnesota Rep. Keith Ellison, who was the first Muslim elected to Congress."
—
Related:
Democrats Capture U.S. House Majority in Rebuke to Trump (Election Update)
Watch: Historic Record number of women heading to U.S. Congress
Join the conversation on Twitter and Facebook.