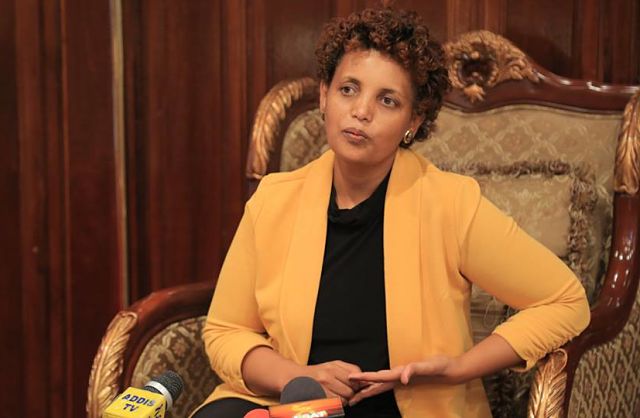 Tadias Magazine
By Liben Eabisa

Published: November 9th, 2018
New York (TADIAS) — The first time that Tadias featured an interview with Birtukan Mideksa six years ago we were celebrating the former judge, political leader, human rights activist and a mother of a young daughter, as one of our heroes for women's history month; it had been less than a year after she had moved to the U.S. from Ethiopia as a fellow at the National Endowment for Democracy in Washington, D.C.
This week Birtukan returned to her beloved homeland after seven years in exile. Prior to being forced to emigrate to the U.S. she had been twice imprisoned in Ethiopia as leader of an opposition party that won more than one-third of the seats during the tumultuous 2005 elections. In a public speech that year at the memorial tribute for Vaclav Havel — the former President of the Czech Republic who was also a playwright and poet — Birtukan described her second imprisonment for 19 months in solitary confinement as being "alone in every sense of the term." She candidly shared that "after all the pain that was inflicted on me and my dear ones, I had to ask myself if the struggle was worth it."
Indeed, in more ways than one, Birtukan has paid her dues to encourage democracy in Ethiopia and that's why it was deeply moving for me personally to watch her from afar, from here in the U.S., as she received a well-deserved, warm reception back in Ethiopia's capital, Addis Ababa.
I first met Birtukan in early May of 2012 when she came to New York to attend an award ceremony recognizing journalist Eskinder Nega, who was then still behind bars. Eskinder, her friend and former prisoner of conscience, was being honored with PEN America's prestigious "Freedom to Write" award at the literary organization's annual dinner held at the American Museum of Natural History. Later, I also had an opportunity to visit Birtukan at Harvard when she was a student there; we also attended civic leadership events together during the US-Africa Leaders Summit hosted by the U.S government in D.C. four years ago. Birtukan is one of the most brilliant, inspiring and kindest individuals I had the privilege of meeting in my many years of work as Publisher of Tadias. In addition to her gracious, non-assuming personality and quiet humor the most memorable and contagious part of being around Birtukan was her heartfelt commitment to freedom of expression, human rights and advancing democratic principles in Ethiopia.
"What helps me most to survive the hurdles I faced is the depth and intensity of the ideal and vision I have with regard to the worth and dignity of the individual citizen and the way our society should be organized based on this universal ideal of human rights and the rule of law," Birtukan told Tadias during our women's history month interview. "My belief and conviction that we can and should change the status quo, though it appears to be daunting, has kept me going." She added: "And my trust in the power of the individual to bring about change enables me to consider the price I paid as a sacrifice made for a worthy causes and purpose."
Birtukan was born and raised in Addis Ababa and attended public school both for her elementary and high school education before she graduated from Addis Ababa University with a degree in law. "I believe my passion for politics has a strong correlation with the fact that I was brought up in a community whose members are strongly committed to maintaining healthy social relations and to looking after the well-being of individual members," said Birtukan who grew up in the Ferensay Legacion neighborhood of Ethiopia's capital. "My training as a lawyer later on gave me some coherent narrative and vision for this aspiration of mine."
If it was up to Birtukan Mideksa Ethiopia by now would have had a fully functioning democracy consisting of equally powerful opposition parties that are credible, peaceful and loyal to the constitution. While living in exile, where she also managed to earn a Master's degree in Public Administration from Harvard University's Kennedy School of Government, Birtukan never ceased to speak up in defense of human rights and democracy in Ethiopia whenever the opportunity presented itself, albeit with her trademark respectful tone.
In an Op-Ed article titled "Embracing Development and Security Means Embracing Free Expression," published by Freedom-now.org in 2014 — shortly after the US-Africa Leaders Summit and while the former Prime Minister Hailemariam Desalegen was still in charge – Birtukan urged the U.S. government and other Western countries to rethink their approach to Africa in general and Ethiopia in particular. "The Ethiopian government has long relied on the same arguments to defend its actions — falsely claiming that the Anti-Terrorism Proclamation copies equivalent European standards," Birtukan wrote. "The international community can no longer tolerate these kinds of wholly inadequate explanations, especially when respect for human rights impacts the prospects for growth and security on the continent so greatly. If we are serious about development and peace in Africa, we need to hold the government accountable and reinforce the proposition that there can be no robust, sustainable growth without respect for the fundamental rights for all Africans."
Before she departed for Ethiopia on Wednesday Birtukan told Voice of America's Alula Kebede that she hopes to contribute in helping to build democratic institutions. And in my opinion there is no one more qualified than Birtukan Mideksa to help assist Ethiopia's ongoing transformation into a more democratic and peaceful society. She has the passion, legal education and real-life experience to do the job and the scars to prove it.
It goes without saying that at whatever role and capacity that Birtukan wants to participate, there could be no doubt that she has earned the right to have a say in leading the future of Ethiopia.
—
Liben Eabisa is Co-Founder & Publisher of Tadias Magazine.
Related: Birtukan Mideksa in Pictures:
Join the conversation on Twitter and Facebook.