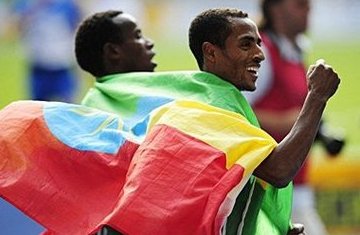 Above: Ethiopia's Kenenisa Bekele wins a historic distance
double at the 2009 World Athletics Championships in Berlin.
He has been named as one of the contenders for the 2009
World Athlete of the Year Awards.
Tadias Magazine
By Tadias Staff
Published: Monday, November 9, 2009
New York (Tadias) – Kenenisa Bekele of Ethiopia, the two-time reigning Olympic champion in the 10,000 meters dash, and one of the most accomplished long distance runners in history, has been nominated for the 2009 World Athlete of the Year Awards.
He is one of five male athletes who have been shortlisted for the award by the International Association of Athletics Federations – IAAF. The winner will be announced during the World Athletics Gala in Monaco, on November 22, 2009.
IAAF plans to announce the female nominees tomorrow.
The other nominees include: Usain Bolt (Jamaica), Tyson Gay (USA), Steven Hooker (Australia), and Andreas Thorkildsen (Norway ).
Kenenisa Bekeles is the current holder of the world record and Olympic record in both the 5,000 meters and 10,000 metres and has never lost a 10,000m race, which has led some to dub him "one of the greatest distance runners of all time."
Video: Kenenisa Bekele after his 2009 Berlin victory (Flotrack)

Track and Field Videos on Flotrack
Related:
VIDEO: Kenenisa Bekele wins 10000 meters in Berlin (EthioTube.net)

Flotrack's IAAF Coverage (August 23, 2009)