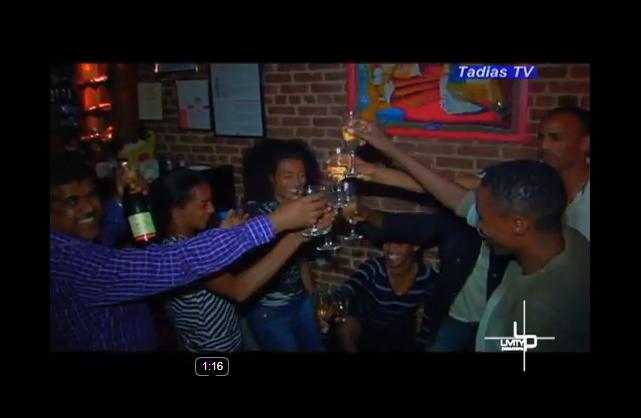 Tadias Magazine
Events News
Updated: Thursday, November 10, 2011
New York (TADIAS) – Firehiwot Dado and Buzunesh Deba were greeted like homecoming queens with cheers and applause as they arrived for dinner at the Queen of Sheba Ethiopian Restaurant in Manhattan on Sunday evening, following their stunning victory at the 2011 ING New York City Marathon.
Firehiwot Dado, 27, won her debut NYC Marathon in 2:23:15, followed by her childhood friend, New Yorker Buzunesh Deba, four seconds later. It was one of the closest women's finish in the race history.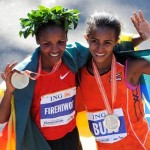 "This is my first time coming to New York," Firehiwot said. "It's one of the top five [international] competitions. That I won prepares me and gives me hope for the next Olympics." She added: "My goal is to win gold at the Olympics."
The New York media had shown up at the midtown eatery after learning that the local hero would be dining there. Buzunesh Deba was visibly emotional as fans, friends, and strangers waited for a chance to hug and kiss her.
Buzunesh, 24, who led Firehiwot until the two overtook Mary Keitany of Kenya, said running in her Bronx neighborhood had inspired her to pick up the pace and added that she was pleased with the result because "my friend won."
"We lived in the same town, and ran on the same team," Buzunesh told Tadias earlier in the day.
"I want to thank the people of New York and the people of my country and everyone that supported us," Buzunesh said. "Frehiwot and I showed good competition and with God's grace we were victorious."
Watch: Homecoming Reception For New York Marathon Winners at Queen of Sheba Restaurant

Watch: Firehiwot Dado & Buzunesh Deba take the top-two spots at 2011 NYC Marathon

Watch: Geoffrey Mutai Wins 2011 Men's NYC Marathon – From Universal Sports

-
Photo credit: Firehiwot Dado and Buzunesh Deba, 1-2 in New York. (Getty Images)