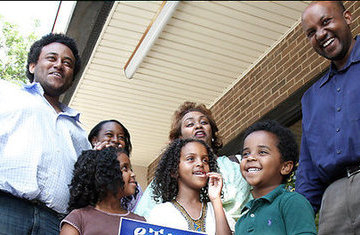 Above Photo: Richard A. Lipski (WaPo)
How Tadias Magazine covered the Obama Phenomenon
in the Ethiopian American Community
February 4th, 2008
Interview with an Ethiopian American Obama volunteer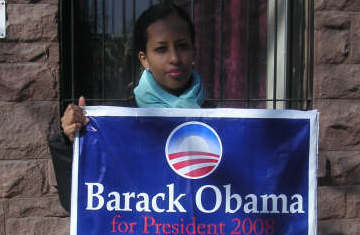 We contacted a volunteer for Senator Barack Obama's Presidential campaign and sent our questions via email. Here is our interview with Adey Fisseha, law student here in New York and Harlem resident. Read More.
February 5th, 2008
Hot Shots: Election Photo Journal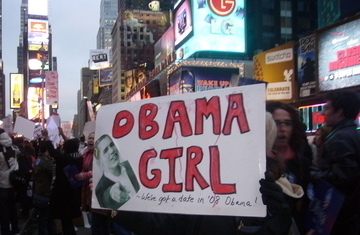 We hit the Obama campaign rallies in the city this weekend in search of hot shots. We were not disappointed. When we arrived at the "Women for Obama" rally at Columbus Circle, there was a surprise waiting for us. Guess who was on the stage? Sara Haile-Mariam, an Ethiopian American, was addressing the crowd. We also attended the rally at MTV studios in Times Square. Read More.
February 4th, 2008
Tadias endorses Obama (Editorial)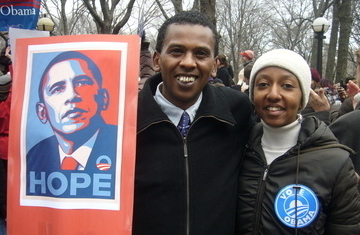 This year Ethiopian Americans will participate in one of the most exciting and consequential elections in decades. Both candidates would make dynamic presidents. And, if elected, will make history. We have no difficulty in selecting which one of two will eventually become a more powerful historical figure. We strongly endorse Senator Barack Obama. Read more.
February 27, 2008
OP-ED: Why I'm supporting Obama (Tadias)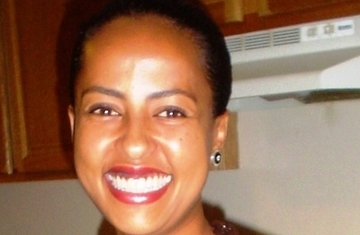 We first met Zelela Menker (above) while covering an Obama rally here in New York on Feb 2, 2008. She had stopped by to take part in the "Women for Obama" rally at Columbus Circle. Zelela was born and raised in Addis Ababa, Ethiopia. She is a graduate of Mount Holyoke College (MHC) in South Hadley, Massachusetts, where she majored in Critical Social Thought. The concentration of her academic studies has been Health Disparities and Healthcare Policy. In the following opinion piece, Zelela Menker discusses her thoughts on Senator Obama. Read More.
March 26, 2008
Opinion: Honesty Starts with Me (Tadias)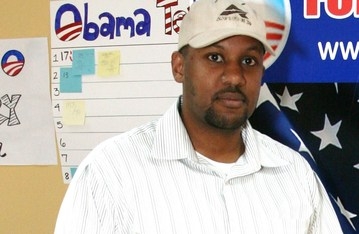 Watching Barack Obama's historic speech about race and it's omnipresence in the lives of all Americans had a profound impact on me. I was inspired by his honesty and his blunt assessment of our collective and individual deeds that perpetuates the divides within communities all across this nation and throughout the world. It was this powerful moment that led me to some introspection into my actions and how I perpetuate the intangible, yet real, walls that separates neighbor from neighbor, co-worker from co-worker–and in some instances–friend from friend. Read More.
June 4, 2008
Ethiopian Americans React to Obama's Victory (Tadias)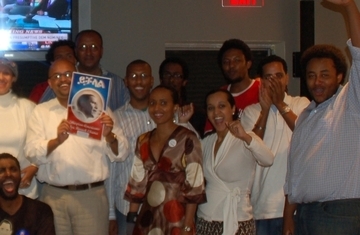 Ethiopian Americans across the country welcomed Barack Obama's claim of the Democratic presidential nomination Tuesday night, most of them contacted by Tadias noting the historical significance of the first African American candidate to lead either major party for the White House. Read More.
July 3, 2008
Opinion: Ethiopia's Joshua Generation (Tadias)


During the most trying times, when hope is a glimmer that seems too distant to be tangible, it is our children that serve as our bridge to hope. We—Ethiopian-Americans—immigrated to the United States for this very purpose. As the generation who benefited from the toil of our parents, we often don't fully appreciate the tremendous sacrifices our parents have made so that we could attain the American dream. Not only should we never forget the sacrifices of our parents, we should extend every effort ourselves so that the our future generations can ascend higher. This will be our legacy as a people; this will be our legacy as Ethiopian-Americans. Read More.
July 30, 2008
Obama Team Hires Selam Mulugeta (Tadias)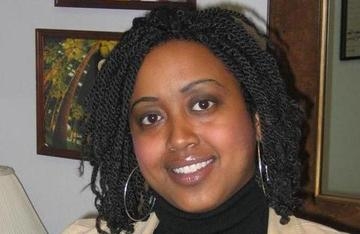 The presidential campaign of Senator Barack Obama has hired Selam Mulugeta, an Ethiopian American, who formerly served as a Congressional Staffer and Special Assistant to Rep. Mike Honda (D-Calif.), founder and Chair of the Congressional Ethiopia and Ethiopian American Caucus.
Read More.
August 6, 2008
Obama Reaches Out to Ethiopian American Voters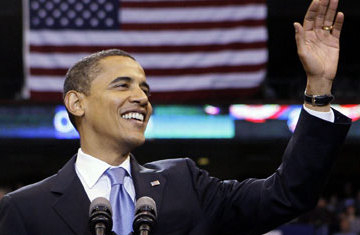 In a letter sent to the Democratic support group Ethiopians for Obama (E4O), the presumptive Democratic presidential nominee reached out to Ethiopian American voters and acknowledged their growing support for his campaign. Read More.
August 8, 2008
Ethiopian Americans May Swing the Vote in Virginia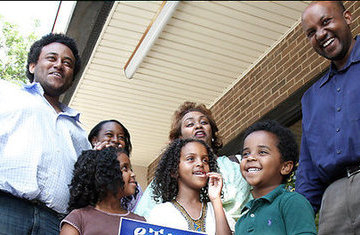 The U.S. State of Virginia, which is home to one of the largest Ethiopian American communities in the country, hasn't voted for a Democratic presidential candidate in four decades, but some say it might turn blue come November. Read More.
August 18, 2008
Obama and Ethiopia: From Gloom to Leadership (Tadias)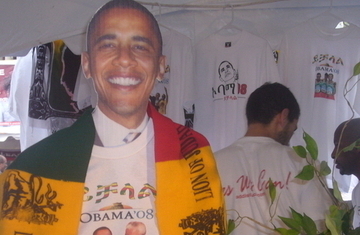 What a season! In Ethiopia and in the United States, we hear similar laments: inflation brings miseries; rich/poor gap widens; sick people lack care; environments worsen; human rights burn; energy grows scarce; media cave in; schools are inadequate. And we face baneful consequences of invading another country in an ill-conceived quest to stamp out perceived security threats. It's enough to make you feel gloomy. Read More.
September 16, 2008
Conversations with an Ethiopian-American Obama Organizing Fellow (Tadias)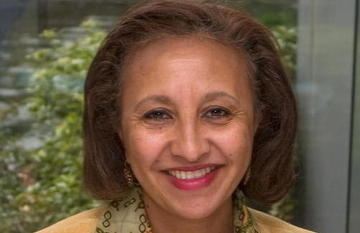 We recently spoke with Washington, D.C. resident Kedist Geremaw, a health care administrator and one of the 3,600 individuals who were selected and trained as an Obama Organizing Fellow this summer. Read More.
October 21, 2008
Five Reasons for Ethiopian-Americans to Support Obama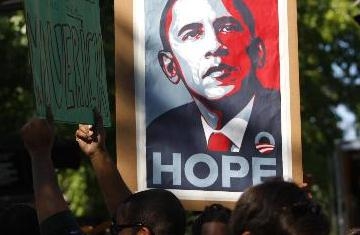 Even if this is the most important American presidential election in the last half-century, why should Ethiopians burn with special interest in it? Considering what's at stake for Ethiopian immigrants and their home country, the question warrants a fresh look. Let's see how five central Obama commitments play out for Ethiopians in the U.S. and in ye-beyt agar (at home): 1) economic relief; 2) medical care; 3) energy development; 4) respect for law; and 5) dialogue with opponents. Read More.