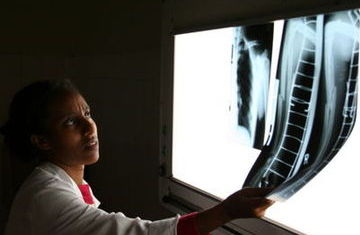 Above: A resident displays an x-ray at Jimma Referral Hospital
in Jimma, Ethiopia, on September 2, 2009. The resident is
helping teach health officers how to perform emergency
and obstetric surgeries. (Hanna Ingber Win).
The Atlanta Journal-Constitution
By Shelia M. Poole
Emory University's Nell Hodgson Woodruff School of Nursing has received an $8.16 million grant from the Bill & Melinda Gates Foundation for a project to improve survival rates of mothers and newborns in Ethiopia. The 2 1/2-year interdisciplinary project will be led by Lynn Sibley, an associate professor in the Emory School of Nursing and Rollins School of Public Health. Read more.
Related:
Why Girls Gotta Run: Interview with Dr. Patricia E. Ortman
Mothers Of Ethiopia Part V (Huffington Post)