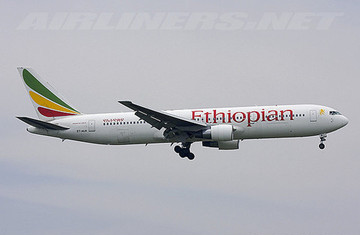 Above: "Airbus SAS won an order from Ethiopian Airlines for
12 of its upcoming A350 aircraft in a deal valued at about $2.8
billion at list price, bringing its total orders for the plane to 505."
(Read more at Bloomberg News).
Airbus Press Release
Ethiopian Airlines confirms order for 12 Airbus A350 XWBs
15 November 2009
Ethiopian Airlines has today ordered 12 Airbus A350 XWB aircraft, bringing total orders for the A350 XWB family to 505, not even three years after launch of the programme.
In selecting the A350-900 to operate from their hub in Addis Ababa on routes to Europe, the US and Asia, Ethiopian Airlines becomes a new member in Airbus' family of over 300 customers.
"We are committed to investing in industry leading technology to maintain our unrivalled reputation in Africa whilst continuing to grow" said Mr Girma Wake, CEO of Ethiopian Airlines. "The A350-900 uses new technology to bring superior passenger comfort and a step change in fuel efficiency to our rapidly expanding operations."
"The A350 XWB's extra efficiency and cabin-comfort will strengthen Ethiopian Airlines' position as a leader and benchmark in African aviation" said Tom Enders, Airbus President and CEO. "More than 500 orders from 32 customers is a clear endorsement that the A350 XWB is shaping the future of air travel."
The A350 XWB Family is Airbus' response to widespread market demand for a series of highly efficient medium-capacity long-range wide-body aircraft. With a range of up to 8,300 nm / 15,400 km, it is available in three basic passenger versions.
The A350 XWB has the widest fuselage in its category, offering unprecedented levels of comfort, the lowest operating costs and lowest seat mile cost of any aircraft in this market segment. Powered by two new generation Rolls Royce Trent XWB engines, the A350 XWB Family is designed to confront the challenges of high fuel prices, rising passenger expectations, and environmental constraints.
Firm orders for the A350 XWB now stand at 505 from 32 customers worldwide.
Video: Dubai Airshow : More displays but less deals expected

About Ethiopian Airlines
Ethiopian Airlines (Ethiopian) is the flag carrier of Ethiopia. During the past sixty plus years, Ethiopian has become one of the continent's leading carriers, unrivalled in Africa for efficiency and operational success, turning profits for almost all the years of its existence.
Operating at the forefront of technology, it has also become one of Ethiopia's major industries and a veritable institution in Africa. It commands a lion's share of the pan African network including the only daily east-west flight across the continent. Ethiopian serves 53 international destinations with 157 weekly international departures from Addis Ababa and a total of 410 weekly international departures worldwide.
Further more, it is working diligently to make the Ethiopian Aviation Academy the leading aviation academy in Africa. Ethiopian is one of the airlines, in the world, operating the newest and youngest fleets.
Source: Ethiopianairlines.com