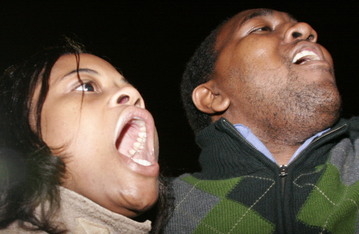 Above: The day Barack Obama was elected President,
a roar of joyful celebration broke out in the New York
neighborhood of Harlem, which is historically known as
the center for African American culture.
(Jeffrey Phipps for Tadias Magazine)
CNN
By Paul Steinhauser
CNN Deputy Political Director
WASHINGTON (CNN) — For most African-Americans, the election of Barack Obama as president was a dream come true that they didn't think they would see in their lifetime, a national poll released Tuesday suggests.
Eighty percent of African-Americans questioned in a CNN/Opinion Research Corp. survey said that Obama's election was a dream come true, and 71 percent said they never thought a black candidate for president would get elected in their lifetime.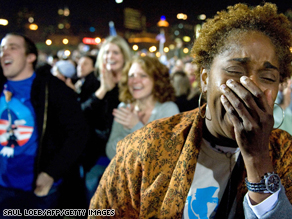 A woman is overcome on November 4 after
hearing that Barack Obama had been
elected president.
The poll reflects anecdotal evidence that surfaced across the country last week as soon as Obama's projected win was announced.
"It's history," said iReporter Tave Johnson, who spent Election Night at the Grant Park Obama rally in Chicago, Illinois. "I'm half-black and half-white. I talked to my grandparents today, and they told me this is historic. To be honest … I never would have guessed it would happen."
Among white Americans, only 28 percent said Obama's victory in the race for the White House was a dream come true, with the vast majority, 70 percent, saying it was not.
The poll also suggests a racial divide among people who thought a black candidate would be elected president in their lifetimes. Fifty-nine percent of white respondents said they thought a black president would be elected in their lifetime, but only 29 percent of black respondents agreed. Read more at CNN.
Related: Tadias Photos: Election Night in Harlem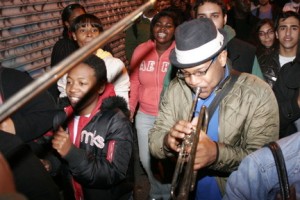 What Obama's victory means to my
daughter from Ethiopia (Tadias)