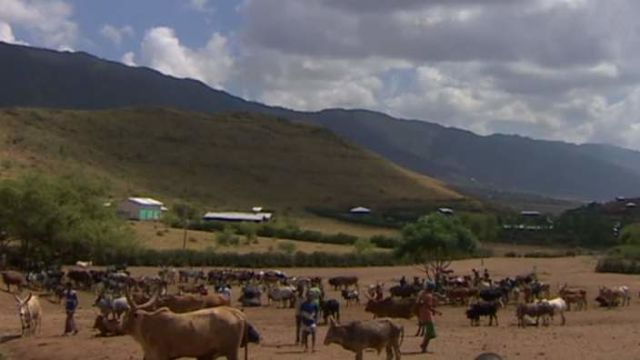 ASSOCIATED PRESS
By ELIAS MESERET
ADDIS ABABA, Ethiopia — Ethiopia's government has started distributing rations of wheat and cooking oil to people facing hunger in the northern and northeastern parts of the country.
The government is now supplying 15 kilograms (33 pounds) of wheat and a half liter (1.3 gallons) of cooking oil per adult in the areas hit by drought conditions, Mitiku Kassa, secretary of the Ethiopian Disaster Prevention and Preparedness Committee, told the state-affiliated Fana Broadcasting Corporate Wednesday.
More than 8 million people require urgent food assistance and the Ethiopian government says there is enough food aid to feed them through December. The government recently appealed to the international community for $596 million in food assistance.
The food insecurity is fueled by the failure of Ethiopia's spring rains that resulted in poor crop yields.
The U.N. says the scale of the developing emergency exceeds resources available so far.
Read more »
—
Related:
Thirty years of talking about famine in Ethiopia – why's nothing changed? (BBC)
Drought Takes Terrible Toll in Ethiopia (BBC News)
Ethiopia Tries to Avert Another Famine (The Economist)
Worrying aid shortages as malnutrition hits record high in Ethiopia (Reuters)
El Niño Strikes Ethiopia (NY Times Editorial)
Ethiopia, a Nation of Farmers, Strains Under Severe Drought (The New York Times)
Ethiopia's Government Makes International Appeal for Food Aid After Poor Harvests (AP)
Ethiopian drought threatens growth as cattle die, crops fail (Bloomberg)
Drought Hits Millions in Ethiopia (Radio France International)
Sharp rise in hungry Ethiopians needing aid: UN (AFP)
Ethiopia: Need for Food Aid Surges (Reuters)
The Cause of Ethiopia's Recurrent Famine: Is it Drought or Authoritarianism? (The Huffington Post)
Join the conversation on Twitter and Facebook.