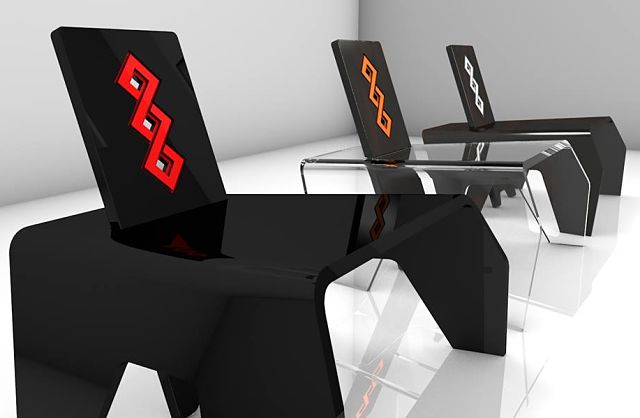 Tadias Magazine
Tadias Staff
November 12th, 2017
New York (TADIAS) — Jomo Furniture, founded by Ethiopian American artist and industrial designer Jomo Tariku, continues to garner international attention. This week, the U.S.-based company — which was featured at the African Culture and Design Festival (ACDF) that took place from November 9-12 in Lagos, Nigeria — will also be showcased at African by Design's Middle East launch of its exhibition in Dubai, UAE.
The African by Design exhibit included designers from seven Sub-Saharan nations this past March in Ghana, and according to the press release the upcoming event taking place from November 13-18, 2017 will "play host to Africa's most diverse design exhibition in a prestigious celebration of the very best in African textiles, sculptors and installations."
Jomo's African themed furniture particularly celebrates ancient Ethiopia as well as Kenya while creating elegant household items such as stools, chairs, tables and other movable articles for use in residences, boutique hotels, and office lobby. "As a young boy growing up in Ethiopia, he was always drawn to the eclectic art, souvenirs, and furniture pieces his father collected during his travel throughout Africa and beyond," Jomo Furniture notes on its website. "That combined with spending two summer breaks at a local furniture builder in Addis Ababa, catapulted his interest in furniture making and design."
According to the media release the talented exhibitors at African by Design Exhibition include: "award winning Transformist, Ini Archibong, Nigeria; Ethiopia and Kenya-inspired Jomo Furniture; and Kofar Mata Dye Pit, whose dyeing technique is encapsulated by the history of the ancient city of Kano."
In addition, the press release note that the work of African by Design participants "fall between three categories; Furniture/Product Design, Textile Design and Environmental Design and promises to be a multi-sensory experience-taking visitors on a journey through the beauty and complexity of diverse cultural influences. African by Design will also be the first exhibition of its kind to inspire a dialogue about the business of design; looking at its potential to contribute to local economies through manufacture and employment."
—
You can learn more about Jomo Furniture at www.jomofurniture.com.
Related:
Contemporary Design Africa Book Features Jomo Tariku's Ethiopia Furniture
Join the conversation on Twitter and Facebook.