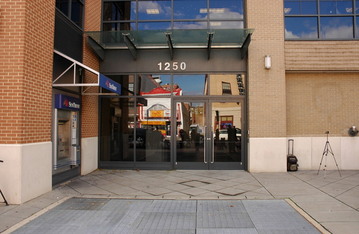 Above:
District's Alcohol Beverage Regulation Administration
unanimously voted Wednesday Nov 17th to keep DC9 closed.
News Update
Wednesday, November 17, 2010
Per the The Washington Post:
The owners of District club DC9 lost a bid Wednesday to reopen after members of the District's Alcohol Beverage Regulation Administration unanimously voted to keep it shuttered in the wake of an October incident in which five club employees were accused of beating a man who died outside the popular nightspot.
District prosecutors dropped charges against the five employees on Nov. 5, saying evidence available at that point did not support the case.
The employees have said they are innocent.
DC9 is on Ninth Street near U Street in Northwest.
Another hearing on the club's reopening is set for Dec. 1, said alcohol board spokeswoman Cynthia Simms. Read the story at The Washington Post.
Related:
Death outside a D.C. nightclub (The Washington Post Editorial)
Today's photo: Friends and family stage a rally (Wednesday, November 17, 2010)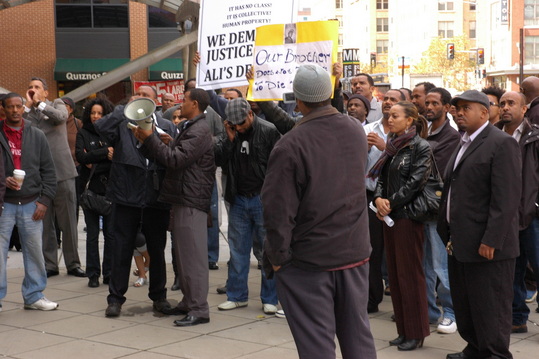 Friends and family staged another rally on Wednesday morning, Nov 17 outside the hearing.
Photos by Samson Balekier.
—————-
DC9 Poised to Regain Liquor License, Ali's Friends Prepare to Protest
Tadias Magazine
Video and Editorial
Published: Sunday, November 14, 2010
New York (Tadias) – The beating death of 27-year old Ethiopian immigrant Ali Ahmed Mohammed continues to spark outrage and dismay in the Ethiopian American community. The murder charges filed against DC9 nightclub co-owner and four of its employees, which were later reduced to charges of aggravated assault, have since been dismissed entirely citing the medical examiner's determination that the victim's injuries were not consistent with a brutal beating.
While the liquor license for DC9 was revoked following the incident, the bar has been granted a new hearing before the city's Alcoholic Beverage Control Board, scheduled for Wednesday, November 17 at 9:30 a.m. "That hearing has been set because representatives for DC9 filed a request to the board that it reconsider its Nov. 1 decision to continue the bar's suspension for at least 30 more days," TBD reports. "This new hearing doesn't necessarily supplant the already scheduled Dec. 1 status hearing, but if the Board decides to go ahead and take action on the case on Wednesday, it theoretically could."
The city's Police Chief Cathy Lanier had acted to suspend the liquor license last month after noting the circumstances of Ali's death on the morning of Friday, October 15, 2010. According to initial police reports, the young man who worked as a security guard at a local deli, was denied entry to the DC9 nightclub around 2:30 a.m., but he returned to throw a brick through the window. What followed next was described by Lanier as extralegal punishment against the victim. Five men chased Ali— including the club's owner Bill Spieler and employees Darryl Carter, Reginald Phillips, Evan Preller, and Arthur Zaloga – then tackled and beat him, police said. When officers arrived, all five men were still on the scene and Ali was in critical condition, Lanier said. He was pronounced dead a short time later. "In my opinion, you talk about a beating like this as a result of property damage, someone has lost his life in a savage beating in what appears to be vigilante justice, it's ridiculous," the police chief had said.
Attorneys for the defendants have been aggressive in their attack of the police version of events, accusing the cops of rushing to judgement. According to the Washington City Paper, during an ABRA hearing earlier this month, "The defense played a radio call placed by the EMTs who picked up Mohammed the night he died. In a call to Howard University hospital, the emergency workers describe Mohammed as being a victim of cardiac arrest, not bludgeoning. They explain that Mohammed has had a "cardiac arrest after a fight." They also recount that he went unconscious in the presence of police, contradicting the police version of events—which claims Mohammed was dead or very close to it when the first officer arrived on the scene. Throwing the wrench into the credibility of the EMTs, though, is the fact that they refer to the young Mohammed as a '45-year-old.'"
Meanwhile, Ali's parents are still awaiting proper explanation of what exactly happened to their son. Friends and family say they plan to stage another rally on Wednesday morning. At a gathering held last week outside the U.S. attorney's office, the mother, Sashie Bule, who carried a sign bearing her son's photo is reported by The Washington Post to have stated: "I need answers…I want to know what happened to my son. He didn't deserve this." Nunu Waco, Ali's cousin, told The Washington Post, her family was shocked by the prosecutors' decision to drop all charges. "Our family deserves better," she said. "American citizens deserve better."
U.S. Attorney Ronald C. Machen Jr. insists the investigation is continuing. "Our work is not done," Machen said in a statement after all charges were dismissed by his office. "The tragic death of Ali Ahmed Mohammed demands that we undertake a careful and comprehensive investigation to determine precisely how he died. . . . The search for justice cannot be rushed, and we will continue to pursue an active and vigorous inquiry."
Organizers say Wednesday's gathering is scheduled near 12th and U street.
In the following video, Tadias TV documents the reactions of Ali's friends and individuals in the community to the prosecutors' decision to drop all charges.
Tadias TV: Reactions to the beating death of Ali A. Mohammed

Related News Videos:

Related: Man Died After Beating Outside DC9 Nightclub (WUSA 9)