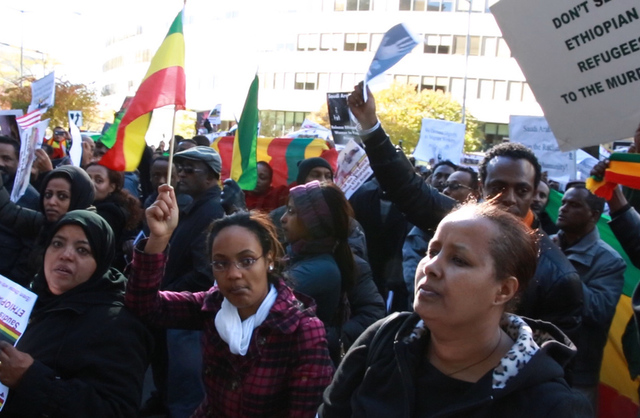 Tadias Magazine
By Dagnachew Teklu

Published: Thursday, November 14th, 2013
Washington, D.C. (TADIAS) — Thousands of Ethiopian demonstrators gathered outside the Saudi Embassy in Washington, D.C. today to protest the killings of several Ethiopian citizens and the violent clampdown against foreign migrants workers in Saudi Arabia. The protesters also denounced xenophobia in the kingdom and the role of vigilante Saudi civilians in violence directed against Ethiopians.
The protesters were dressed in black scarves and held placards that read, "Shame on You" and "Stop Killing and Raping our Sisters." Emotions ran high as protestors braved the cold weather to express their disappointment and outrage at both the Saudi and Ethiopian governments, waving the Ethiopian flag and shouting various slogans.
"We don't understand why our government is unable to protect our citizens," some asked angrily.
Shimeles Legese, a member of the protest organizing committee, told Tadias that the large turnout was more than he had expected.
"This is special because it's a matter of humanity and Ethiopian dignity," Shimeles said. "I have not seen anything like it at any previous demonstrations here in Washington." Leaders of the protest also presented a letter to the Embassy.
According to officials more than 23,000 Ethiopians are being held at various detention centers across Saudi Arabia. Three Ethiopians are among the five people that died following clashes with police in the capital, Riyadh, this week.
The protesters asked "Why do they kill them, why do they rape our women? Why don't they let them leave their country freely?" referring to Ethiopian migrants who are currently facing abuse while being stuck in Saudi Arabia having either over-stayed their visa or entered the country illegally.
A tearful demonstrator from Maryland, Fekerte Belete, said she has no words to express her feelings, except to say: "please tell our government to rescue the poor people and tell the Saudis to stop mistreating pregnant women."
Ethiopian Ministry of Foreign Affairs said earlier that it has evacuated some 31 Ethiopian nationals from Saudi Arabia and had registered over 20,000 Ethiopian who are willing to return to their country.
Organizers said this is the first of many protests planned to take place in front of Saudi embassies in major cities around the world to galvanize action and solutions for this migrants' rights issue. The next D.C.-based protest is scheduled for Monday, November 18th, 2013.

—
Related:
First group of Ethiopians from Saudi arrive in Addis (ERTA)
23,000 Ethiopians 'Surrender' in Saudi After Clamp Down (BBC)
Ethiopians Shame Saudi Arabia On Twitter for Migrant Killings (TADIAS)
Three Ethiopians Killed in Saudi Arabia Visa Crackdown (AFP)
Join the conversation on Twitter and Facebook.