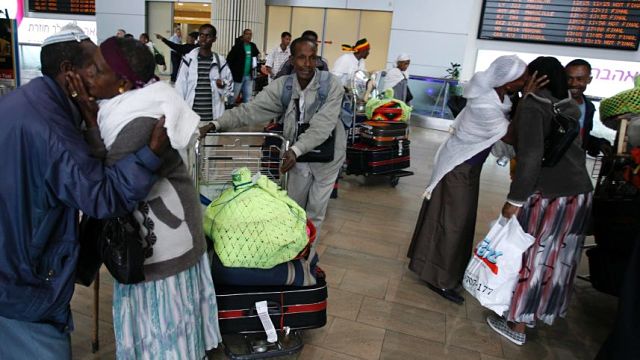 By SAM SOKOL
Updated: 11/16/2015
The cabinet on Sunday unanimously approved an Interior Ministry proposal to resume aliya from Ethiopia, which was suspended in 2013.
Around 9,000 people have been waiting in Addis Ababa and Gondar transit camps for the past several years in the hopes of making their way to the Jewish state. However, Jerusalem closed its doors in 2013 following a ceremony at Ben-Gurion Airport at which officials declared the "end" of Ethiopian aliya.
The fate of the prospective immigrants has been a matter of some debate, with Ethiopian-Israeli activists protesting what they saw as the breaking up of families.
—
Related:
Israel okays immigration for last group of Ethiopian Falash Mura (Reuters)
Israel Set to Greenlight Final Aliyah of Ethiopia's Falashmura Community (Haaretz)
Join the conversation on Twitter and Facebook.