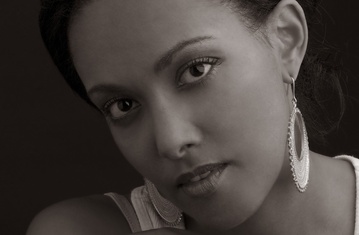 Above: Grammy-Nominated singer Wayna is expecting her
first child. (Courtesy photo)
Tadias Magazine
By Tadias Staff
Updated: Monday, November 16, 2009
New York (Tadias) – Grammy-nominated singer Wayna says she is looking forward to a new challenge – motherhood. "The most important news of my life these days is that my husband and I are expecting our first child next May," Wayna shared in her exclusive interview with Tadias Magazine. "This is a dream come true, and I'm enjoying every moment of becoming a mom. It is an amazing feeling."
Wayna has also been collaborating with up-and-coming Ethiopian-American artists on an album to be released at the end of the month. Here is the interview:
Tadias: What's on your plate these days?
Wayna: I am part of a collective of Ethiopian and American artists called the Kaffa Beanz. It includes myself, the Prophet of BurntFace, B Sheba, Gabriel Teodros, and AP. We did a collaboration album called Andromeda using traditional Ethiopian samples and hip hop beats. It started out as a project we were doing for fun. But one by one, the songs starting coming together so well that by the time we were finished, we felt like we'd created something special and uniquely Ethiopian-American — something that reflected our taste as soul and hip hop artists, but that also showcased our culture.
On November 20th, we are all coming together from all parts of the country to do a special performance/release party at Zanzibar on the Waterfront in Washington, DC. It'll be the first and maybe the only time we'll all be under one roof, so I want to invite everyone within reach to come out. We'll be performing and selling the album which is a limited release, and the concert will also feature a performance from me and from, Togolese rapper, Tabi Bonney. Every African who loves hip hop or soul should be there.
Tadias: You also write most of your songs, what is that process like for you?
Wayna: The writing process is always different for me. Sometimes, I'll get a beat and listen for a melody, and then choose lyrics that fit however the music makes me feel. Other times, I'll have a concept or a hook in my head already and work with a producer or my band to build the music around it. There are also times when I sit at the piano and come up with something on my own. One of the things I enjoy about writing the most is that its unpredictable, and I never know where or how a song will take shape.
Tadias: Your last album garnered a Grammy-nomination. Do you reckon your next LP will be on the same level?
Wayna: No, I hope it will be better. My #1 goal is to keep growing. I still feel like I'm new to being an artist, because I spent so much of my life being a professional and working in an office. So, I'm growing a lot still, and thankfully the music usually reflects that.
Tadias: By the way, where were you when you learned of the news about your Grammy nomination?
Wayna: I was in South Africa at my girlfriend's wedding. We had just started a post-wedding vacation in an area of the country where there was no access to the Grammy broadcast, so I woke up early the morning after and went to the hotel lobby to check the Grammy site. Before I even got there, there were a flood of emails in my myspace account congratulating me.
Tadias: You seem to travel a lot. Are there any highlights from the tour you'd like to share with us?
Wayna: Yes, its been a busy year for me, I've had stops in NYC, Philly, LA, Miami, Atlanta, Chicago, Austin and many other cities. Probably my most memorable of these dates was sitting in with the Roots at their weekly jam session at the Highline Ballroom in NYC. It was sold-out, and there I was standing with one of my favorite bands ever. Artists are supposed to just come and jam, no rehearsal no discussion about what your going to do. So, I started with Slums of Paradise, a song I wrote about Ethiopia on my first album, Moments of Clarity Book 1, and they made a beautiful groove behind it, and the crowd loved it!
I've also gotten to do shows abroad in London, Toronto and a 3 month residency in Ethiopia, where I played at Harlem Jazz, the Sheraton, the Alliance, the Hilton, and Coffee House. That was probably my most life-changing experience, because I got to live life in my country and to see the music scene there first-hand. My favorite recent overseas trip though has got to be the Selam Youth Festival in Toronto this past summer. The kids were so talented and dedicated, and Weyni Mengesha put on an amazing production. I was really proud to be a part of that.
Video: Wayna at the 2009 Selam Youth Festival in Toronto

Tadias: Which artists would you say have the most influence on you?
Wayna: I love different artists for different things. Bob Dylan for his lyricism, Kim Burrell for her vocals, Stevie Wonder for all of the above, Erykah Badu for her stage show…the list goes on and on. But one of the things I'm excited about for the year ahead listening to new artists and genres that I haven't been as exposed to. By next year, I'm sure I'll have a whole new list.
Tadias: Which artists have you not worked with yet, but would love to?
Wayna: My dream collabo is with Andre 3000 of Outkast. He seems to be the kind of artist and producer who has no boundaries for himself, and that is exactly the kind of creative energy I want to be around.
Tadias: You have also teamed up with DC's rising star Wale to remix 'Billyclub' a song about police brutality. Was that inspired by your arrest at Houston Airport?
Wayna: Yes, I had just gotten back from Houston when I was scheduled to perform at the DMV awards. We played "Billyclub," and because the experience was so fresh in my mind, the show was unlike any other we'd ever done. Wale was in the crowd. We talked about doing this remix, and it came together a few months later. He just got off tour with Jay Z and performing as the house band at the MTV music awards, so I'm excited that we got to do the song together. But mainly, it was an opportunity to vent about whatever feelings I had left over, so I so could just move on. A video for it is soon to be released and the audio is available for a free download.
Tadias: Is there anything else you'd like to share with our audience?
Wayna: The most important news of my life these days is that my husband and I are expecting our first child next May. This is a dream come true, and I'm enjoying every moment of becoming a mom. It is an amazing feeling.
Tadias: Thank you Wayna and we offer you our heartfelt congratulations.
Video: Wayna Reflects On Her Houston Arrest

FOX News: Wayna Performs Billie Holiday Tribute