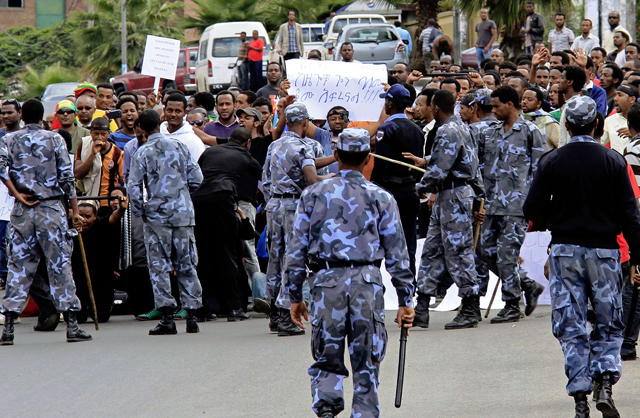 When Abdallah Awele moved to Saudi Arabia from Ethiopia last year, he thought he would land a good job and earn enough money to send home to his family.
But instead, Abdallah, 21, said he was beaten, robbed and jailed for living in the country illegally.
"I wanted a good salary and a good life, that's why I crossed the border," he said.
"When I was in Saudi Arabia, I was successful, I was saving a lot of money and I had nice things. But I lost all of it. Now I am home and I won't go back there."
Abdallah was one of at least 23,000 Ethiopians living illegally in Saudi Arabia, and part of a group of close to 400 flown home on Friday after being expelled.
According to Ethiopian officials, three of their nationals were killed this month in clashes with Saudi police as the clampdown – set in motion after a seven-month amnesty period expired – got under way.
"I had 3,500 Saudi Arabian riyals (930 dollars, 690 euros). We were taken to prison, I lost my luggage, and all of my money was collected by the police," Abdallah said.
"Even my shoes were collected by the police," he said, speaking barefoot after leaving the airport with about 30 other men and showing scars on the back of his neck.
Abdullah, who had a job guarding animals, was jailed for six months – during which he said he was denied food and medical help.
Read more.
—
Related:
Severe Flooding in Saudi Capital Riyadh Claims Three Lives (Gulf News)
Ethiopians Continue Peaceful Protests Against Migrant Abuse in Saudi Arabia (TADIAS)
Photos: Ethiopians Hold Protest Outside Saudi Embassy in Washington, D.C. (TADIAS)
Ethiopians: #SomeoneTellSaudiArabia to Stop Crackdown (Global Voices)
First group of Ethiopians from Saudi arrive in Addis (ERTA)
23,000 Ethiopians 'Surrender' in Saudi After Clamp Down (BBC)
Three Ethiopians Killed in Saudi Arabia Visa Crackdown (AFP)
Tadias Interview With Rima Kalush: Migrant-Rights Org Seeks Long Term Solutions http://t.co/MrVZ0njFln

— Tadias Magazine (@TadiasNews) November 17, 2013
Join the conversation on Twitter and Facebook.