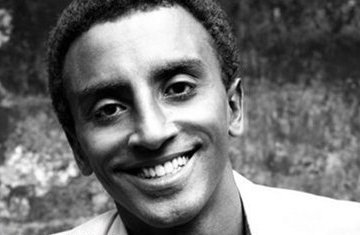 Above: Marcus Samuelsson to prepare White House State
Dinner.
Tadias Magazine
By Tadias Staff
Published: Thursday, November 19, 2009
New York (Tadias) – The White House has selected Chef Marcus Samuelsson to prepare the State Dinner honoring Indian Prime Minister Manmohan Singh on November 24, Politico.com reports.
According to the News hub, prior to his selection, Samuelsson had confirmed that he had been contacted by the White House regarding the potential selection. "I know there has been interest, and I would love to do it," he said. "If I got it, I would be very proud."
A formal announcement by the White House is expected on November 24th.
Samuelsson was the youngest-ever chef to receive a three-star restaurant review from the New York Times in 1995. His television shows "Inner Chef" (Discovery Home Channel) and Urban Cuisine (BET J/Centric) aired in 2005 and 2008 respectively. He has been dubbed one of "The Great Chefs of America" by The Culinary Institute of America.
Marcus' personal story of his adoption by Swedish parents, his passion for cooking and his eventual move to New York to become one of the top chefs in the world is as colorful as his fusion recipes renowned for their flavor, originality, and multicultural emphasis. "I'm a Swede, I'm also an Ethiopian, and a New Yorker," Marcus told Tadias in a past interview. And in a note to readers of his latest book New American Table, he writes: "I was born in Ethiopia and raised in Sweden, but there's a reason why I have chosen America as the place I want to live. With the New American Table, I celebrate both the regional American cooking that I've grown to know and love, and the diverse ethnic-driven cuisine I've found in this country. As I share my experience as an American immigrant, I pay tribute to all of the immigrant groups who have come here and shared their foods and traditions to create an exciting, thrilling, and wholly original cuisine."
Photos from Marcus Samuelsson's book launch in New York