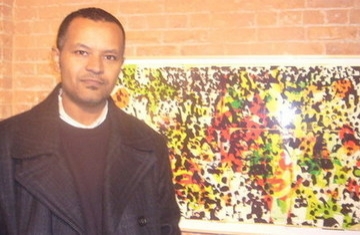 Above: Assegid Gessesse at Green Desk in Brooklyn's
DUMBO neighborhood, Tuesday, November 18, 2008
(Tadias)
By Tadias Staff
Published: Friday, November 21, 2008
New York (Tadias) – The Green Desk Wall Space, in Brooklyn's DUMBO neighborhood recently exhibited Assegid Gessesse's spirited mixed media prints. "Working in a style that is both abstracted and photographic, Assegid, creates works of atmospheric beauty and emotional poignancy," writes Gabriel Abraham, Production Designer and Art Director, in his short review of the artist's work. "His work uses graphics, drawings, photographs and news clippings to create layers of images that evoke history, mythology, mystery and beauty along with conflict of dislocation and alienation."
"I am a memory tourist," Gessesse says referring to our favorite print entitled 'Addis Abeba' – a vivid collage reflecting architecture, the urban/rural dichotomy, and use of space.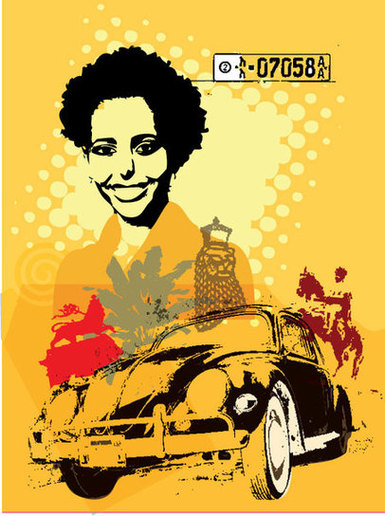 Addis Abeba by Assegid Gessesse
"All the iconic images, including the Volkswagen, that are incorporated in that work are what I remember as a child. The woman represents the city. 'Addis Abeba' for me is a women. And the spelling is intentional, that's the way I think Addis Abeba should be spelled. "
Born in 1964 in Addis Abeba, Ethiopia, and trained in Canada as an Artist and Designer, Gessesse draws from both African and Western influences – a blend of classical, secessionist, and contemporary. He has exhibited his work extensively in North America and Africa, and was recently commissioned by the Open Society Institute's East Africa branch to create a series of images under the theme "Freedom Now." Gessesse currently resides in New York City.
Reviewing Gessesse's current exhibit, Abraham notes: "By definition, ephemeral, the quality of Assegid's prints recalls the fleeting nature of life, and most importantly, memory. His prints eloquently capture the transience of diaspora, recollections of the past, preserving only hints of a moment in time, while allowing all but the scene's essence to fade into abstraction. Assegid gives a particularly touching commentary on the passing of time and life."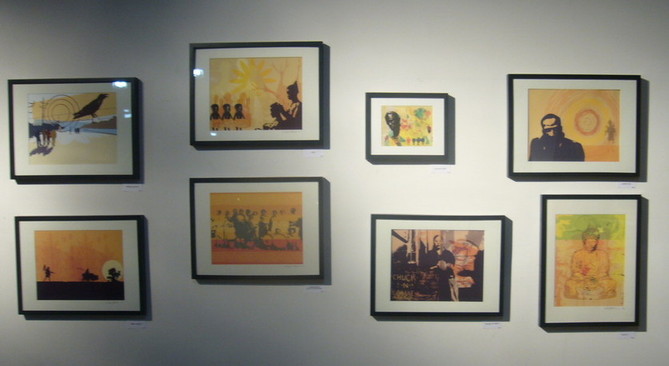 If you missed the Brooklyn show, you have another chance to view or purchase the art work at Settepanni's in Harlem (196 Lenox Ave at 120th street, 917.492.4806). The show will be on display for one more week.