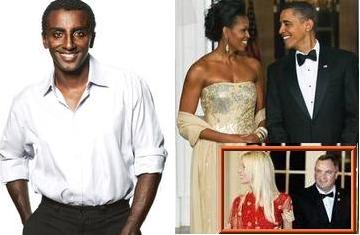 Above: Marcus Samuelsson prepared the Obamas' first State
Dinner. And in a major security breach, a Virginia couple
(shown at the bottom right) apparently sneaked into the
party without an invitation.
Video: Inside Obama's First State Dinner
Tadias Magazine
By Tadias Staff
Updated: Wednesday, November 25, 2009
New York (Tadias) – President Barack Obama and first lady Michelle Obama on Tuesday hosted their first State Dinner honoring Indian Prime Minister Manmohan Singh.
The evening of pomp and ceremony featured the guest chef Marcus Samuelsson, whose menu included vegetables from the First Lady's famous White House garden. Prior to the event, Michelle Obama said that Marcus was "one of the finest chefs in the country" and the State Dinner included "the freshest ingredients from area farmers and purveyors."
And Politico reports: "The importance was not lost on Samuelsson. Waking up on Wednesday morning, after about three hours of sleep, he had not yet come down from his high. 'It was the biggest dinner I cooked in my life — in terms of the occasion,' said the chef, born in Ethiopia, raised by a Swedish couple in Sweden and now a naturalized American."
Here's the complete menu per NYT:
Potato and Eggplant Salad
White House argula with onion seed vinaigrette
Wine: 2008 Sauvignon Blanc, Modus Oprendi, Napa Valley, California
Red lentil soup with fresh cheese
Wine: 2008 Riesling Brooks "Ara" Willamette Valley, Oregon
Roasted Potato Dumplings with tomato chutney
Chick peas and okra
or
Green curry prawns
Carmelized salsify with smoked collard greens and coconut aged basmati
Wine: 2007 Granache, Beckman Vineyards, Santa Ynez, California
Pumpkin Pie tart
Pear tatin
Whipped cream and caramel sauce
Wine: Sparkling Chardonnay, Thibaut Janisson Brut, Monticello, Virginia
Petits Fours and Coffee
Cashew Brittle
Pecan Pralines
Passion Fruit and Vanilla Gelees
Chocolate dipped fruit
Video: Obamas Host First State Dinner
Video: Obama Makes State Dinner Toast

Video: PM-Obama: The next step NDTV.com