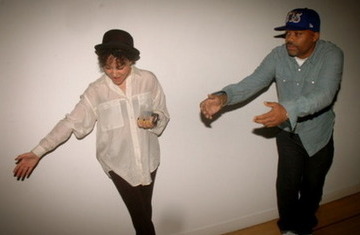 Above: Tigist Selam and Damon Dash at the New York public
screening of the film Left Unsaid. (Photo by Stephen Knight)
Tadias Magazine
Events News
Published: Friday, November 26, 2010
New York (Tadias) – The first public screening of the film Left Unsaid — whose characters utilize Facebook as the networking tool to explore hot-button social issues — took place at the Dash Gallery in Tribeca last week.
Written and directed by Nelson George, Executive Producer of "Good Hair," Left Unsaid starts with a woman who uses Facebook to invite a group of online friends from her new neighborhood in Brooklyn to her apartment for Sunday brunch. The conversation that unfolds among this multi-cultural group highlights issues of online relationships, parenting, professional ambitions, marriage, sex, race, gentrification and comical relief by way of urban legends. The Huffington Post notes: "As for the roster of talented actresses who grease his web series script, they came into the project after George quaintly bumped into many of them in the neighborhood."
The film features, among others, writer and actress Tigist Selam, host of Tadias TV, who plays an Ethiopian-German character named "Bethlehem" – a role that reflects the actress' own cultural background as half-Ethiopian and half-German. "I met Nelson George at his book signing for his new book 'City Kid' last year, I had just moved from Los Angeles back to New York," Tigist says. "It turned out we lived across the street from each other." According to the actress, this chance encounter led to her role in the movie. "We started talking about our passion for film and travel, and he told me about the idea of Left Unsaid. I immediately was interested in participating and he started to write for my character 'Bethlehem,' which is vaguely based on my Ethiopian and German experience. Initially it was a really small project that somehow organically grew into something much bigger. We just went with the flow and saw it beautifully unfold during the summer. I have learned so much and look forward to many more years of collaboration with Nelson."
The event at Dash Studios on November 15th was hosted by the venue's owner, hip-hop and media mogul Damon Dash. The evening attracted an eclectic group of guests. "Some of the attendees were my friends for many, many years and it was so beautiful to have shared that experience with them," Tigist said. "We hope to have a screening of Left Unsaid in Washington D.C. and Los Angeles next year.'
The online series, which garnered good review at the American Black Film Festival in Miami this past summer, is now live on the web at http://www.Leftunsaidseries.com. Tigist Selam is featured in chapters 3, 4, 8, 14 & 18.
Click here to view photos from the event at Essence magazine.
You can follow Tigist on Twitter: twitter/tigistselam, Facebook: facebook/tigistselam, or on her blog: tiggie.tumblr.com.–
Watch here related Tadias Videos featuring Tigist Selam:
Video – Tigist Selam's Interview with Meklit Hadero

Watch: Tigist Selam's Interview With Model Maya Haile