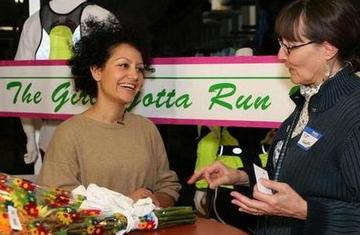 Tadias Magazine
By Tadias Staff
Updated: Wednesday, December 1st, 2010
New York (TADIAS) – Early last month we attended a fundraiser for the Girls Gotta Run Foundation (GGRF) in Chevy Chase, Maryland. Organizers had hoped long-distance legend Haile Gebrselassie would be the featured guest speaker. Haile, who had injured himself a day earler at the New York City Marathon, had flown directly home from NYC following the race and could not attend the gathering. The event, co-sponsored and hosted by the Chevy Chase Running Company, took place on Monday, November 8th, 2010 at the Chevy Chase Running Company store.
According to GGRF, portions of the proceeds from the event will help to "subsidize scholarships for girls to attend training at the Yaya Africa Athletics Village, an athletic center in Sululta, Ethiopia, which is presently under construction and in which Mr.Gebrselassie is a partner." GGRF was established in 2006 to provide funds for athletic shoes, clothes, meals, coach subsidies, and other training-related expenses for disadvantaged Ethiopian girls who are training to be professional runners. One of its sponsored athletes, Dinknesh Mekash Tefer of Running Across Borders, recently broke the women's course record for the Baxters Loch Ness Marathon in Scotland, winning her first international race.
The following video features Tigist Selam's conversation with Dr. Patricia E. Ortman, Executive Director of the foundation, as well as footage of additional speakers at the event.
—
Join the conversation on Twitter and Facebook.