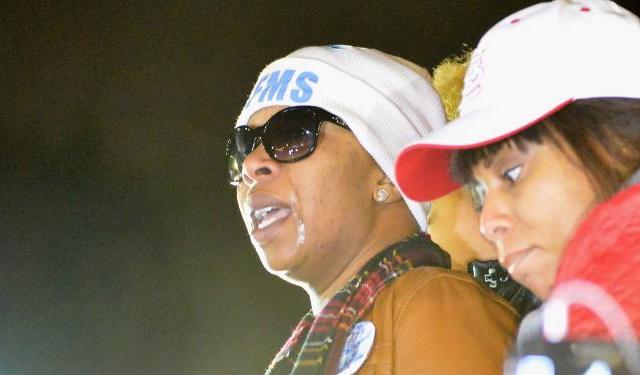 BY: SHAREE SILERIO
Ferguson, Mo.: – Monday night, a grand jury declined to indict Ferguson, Mo., police Officer Darren Wilson, who shot and killed unarmed 18-year-old Michael Brown in Ferguson on Aug. 9.
In advance of the announcement of the grand jury decision, media, protesters, members of the clergy and organizations in support of the Justice for Mike Brown movement waited anxiously outside the Ferguson Police Department building for the ruling. Brown's mother, Lesley McSpadden, who had been informed of the verdict, arrived a few minutes before St. Louis County Prosecuting Attorney Robert McCulloch made the announcement.
In tears, frustration and anger, McSpadden addressed the crowd and said, "Everybody wants me to be calm. Do you know how [those] bullets hit my son? What they did to his body as they entered his body?" She added, "I have been living here my whole life; I have never had to go through anything like this."
She was surrounded by several people who held and hugged her. When McCulloch concluded his conference, protesters immediately responded, chanting, "No justice, no peace!" Some shouted, "Burn it down!"
And many expressed that they were not surprised by the outcome, including Anthony Merri, 38. "Nothing has changed from 1853. This is the city of Dred Scott," he told The Root. "African Americans, Latinos and others who do not fit the status quo cannot get [their] rights, and that was definitely displayed today."
Read more at theroot.com
—
Related:
UPDATE: Ferguson Sees Second Night of Unrest, Protests Staged Across the US
Join the conversation on Twitter and Facebook.