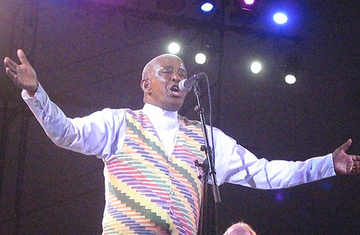 Above: Mahmoud Ahmed at Damrosch's Park in NYC on
Wednesday, August 20, 2008 (Trent Wolbe/Tadias File).
Source: YebboEvents
On Jan. 3, 2009 , the legendary Mahamud Ahmed will be in San Diego at a benefit concert organized by St. Gabriel Ethiopian Orthodox Church. Ticket are sold in San Diego at local Ethiopian restaurants, shops and cafes.
(For those of you who are out of state or may not make it for this event but want to help St. Gabriel Independent Ethiopian Orthodox Tewahido Church, you can send your donation to the church and Mahamud Ahmed will announce your name during the concert. Church address is: 4808 Trojan Avenue, San diego, CA 92115).