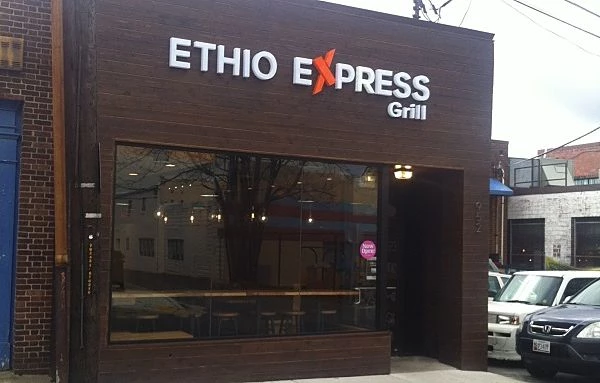 By Tim Carman
The fast-casual market has already swallowed up Mexican burritos, American hamburgers, seasonal salads, Italian pizzas, Vietnamese sandwiches, and it's still hungry for more. Enter Ethiopian natives Yisak Fiseha and Selam Gebreyes, who have fresh meat to feed the beast: their breezy new take on Ethiopian cuisine.
The husband-and-wife team opened Ethio Express Grill on Nov. 18 at 952 Sligo Ave. in Silver Spring, just a door or two down from Jackie's. The couple left the software industry to try their hand in the hospitality business, hoping to find a niche in the rapidly growing fast-casual market.
"We were looking at the Ethiopian food business," Fiseha explained over the phone. "We thought it can be presented in a better way than it is being presented now."
Fiseha laid out his multi-point plan to make Ethiopian cuisine "more mainstream" and "more accessible": Ethio Express, he says, is conceived to prepare meals fresher, cheaper, faster and healthier than the standard peddler of Ethiopian platters.
The "fresher" part boils down to a decision the owners made to focus on, as the best fast-casual concepts do, only one or two dishes. In Ethio Express's case, it deals in grilled tibs. You can select your protein (beef, chicken, lamb or tofu), your base (injera, pita, spaghetti, brown rice or mixed greens) and your sauce (Ethio hot, Ethio mild, yogurt honey, among others).
Read more »
—
Join the conversation on Twitter and Facebook.