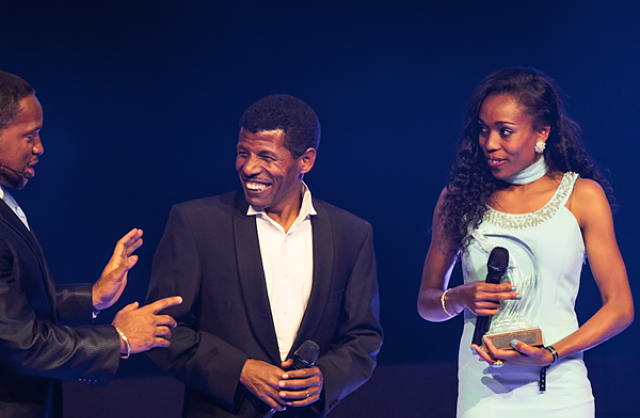 Tadias Magazine
Tadias Staff
Updated: Tuesday, December 6th, 2016
New York (TADIAS) — Ethiopia's Almaz Ayana who set a new world record in the 10,000m race during the 2016 Olympics in Brazil was awarded this year's "Female World Athlete of the Year" prize last Friday at a ceremony in Monaco.
The 25-year-old long distance runner was accompanied at the event by Haile Gebreselassie who also acted as her translator.
"After collecting her IAAF Female World Athlete of the Year award she was asked at what stage during her gold medal run in the 10,000m final at Rio 2016 she realised the world record was also in her grasp," IAAF reported.
" 'When I crossed the line,' she quipped, through top translator Haile Gebrselassie."
Below are photos: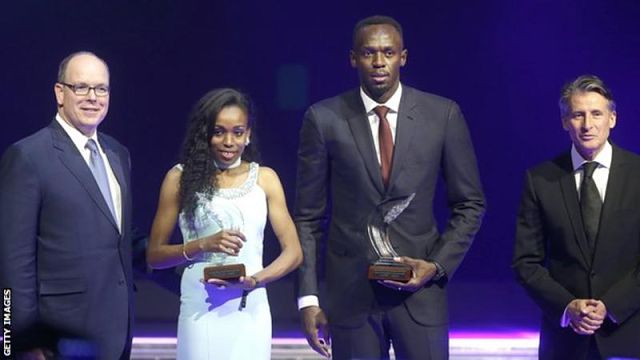 Almaz Ayana and Jamaican sprinter Usain Bolt receive their awards from Prince Albert of Monaco (left) and IAAF president Lord Coe. (Getty Images)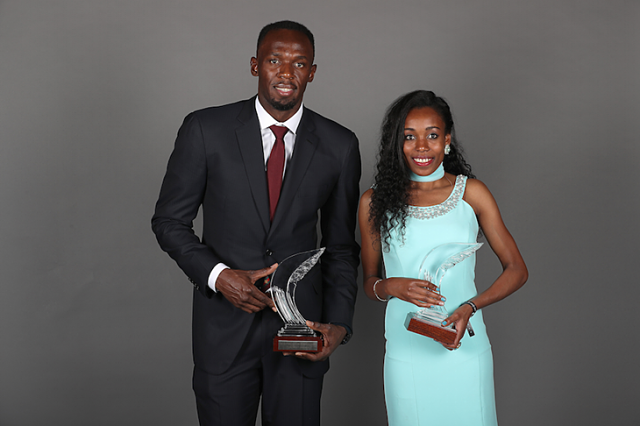 After an incredible year for the sport of athletics, the world's finest gathered in Monaco for a celebration of all that they gave us in a momentous Olympic year — IAAF. (Photo Usain Bolt and Almaz Ayana at the IAAF Athletics Awards 2016/Getty Images)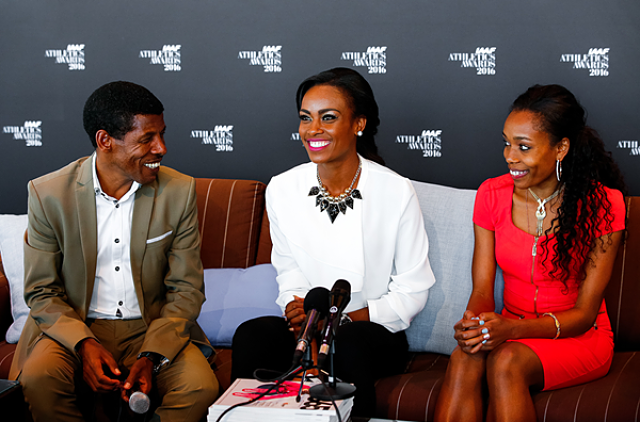 Haile Gebrselassie sits alongside Genzebe Dibaba (centre) and Almaz Ayana on the eve of the IAAF Athlete of the Year awards in Monaco. (Photo: IAAF)
Almaz Ayana is the third Ethiopian woman to win "Female World Athlete of the Year" award following in the footsteps of Genzebe Dibaba (2015) and Meseret Defar (2007), according to IAAF.
"I don't have words to explain my feelings right now, I'm so excited," said Ayana whose award was presented by International Athletics Foundation (IAF) Honorary President HSH Prince Albert II of Monaco. "Really, I'm so pleased."
—
Related:
Ethiopia's Almaz Ayana Named Finalist for World Athlete of the Year Award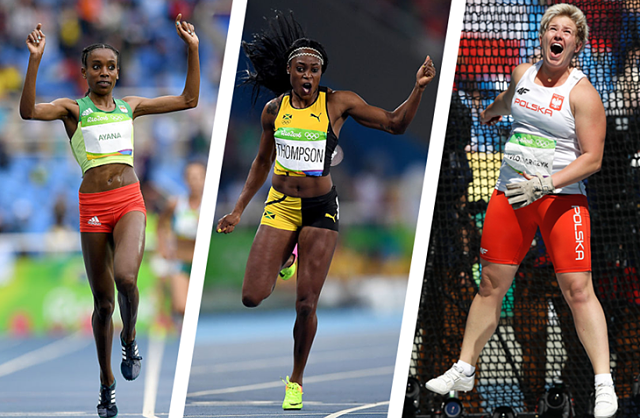 Almaz Ayana (Ethiopia), Elaine Thompson (Jamaica) and Anita Wlodarczyk (Poland) earned their spots on the 2016 Female World Athlete of the Year short list in historic fashion, IAAF announced. (Photos IAAF)
Tadias Magazine
Tadias Staff
Published: Wednesday, November 30th, 2016
New York (TADIAS) — Almaz Ayana who won Ethiopia's only gold medal during the 2016 Olympics in Brazil this past summer has been named a candidate for this year's Female World Athlete of the Year award.
The 25-year-old long distance runner is being considered for the prestigious award along with Jamaican track and field sprinter Elaine Thompson and Polish hammer thrower Anita Wlodarczyk.
"Ayana opened the Rio Olympics with a bang. It was a sight to behold as the Ethiopian broke away early from the rest of the field with a decisive surge," The International Association of Athletics Federations (IAAF), which gives the annual award, said highlighting her accomplishments. "There was no catching Ayana, who powered to a world record 29:17.45, knocking more than 14 seconds off a record that had stood for 23 years."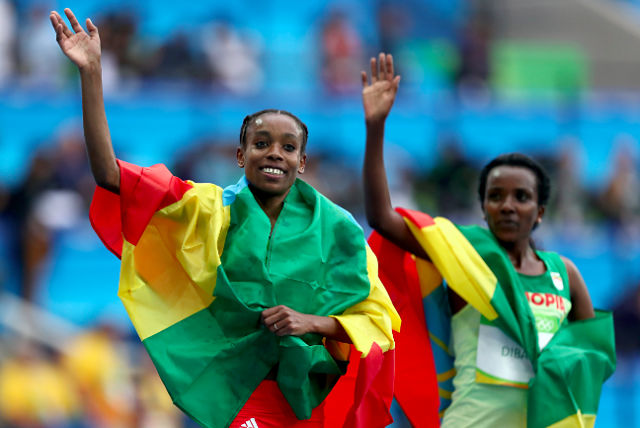 Almaz Ayana with teammate Tirunesh Dibaba at the 2016 Summer Olympics in Brazil. (Getty Images)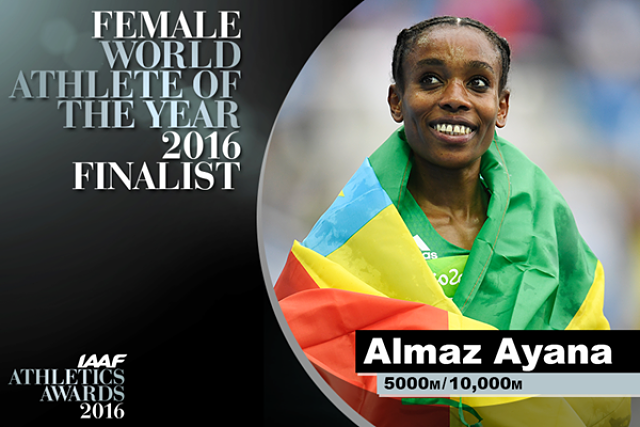 (Image: IAAF)
IAAF adds: "With one Olympic medal already under her belt, Ayana lined up in pursuit of another just days later. She was again the athlete pushing the pace in the 5000m final, blowing the medal hunt wide open with a break at half way. But her world record effort from a week earlier showed in the end, as Kenya's Vivian Cheruiyot and Hellen Obiri passed her in the final lap. Ayana finished in third with 14:33.54. It was the only race of 2016 in which she didn't cross the line in first, and it still earned her an Olympic bronze."
—
Join the conversation on Twitter and Facebook.