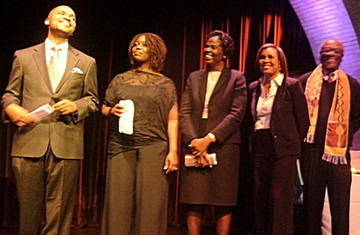 Tadias Magazine
Events News
Published: Tuesday, December 8, 2009
New York (Tadias) – This past weekend we attended the launching of Abyssinian Fund, an NGO dedicated to fighting poverty in Ethiopia. The event was organized in Harlem by members of the legendary Abyssinian Baptist Church and was held on Friday, December 4th, 2009 at the elegant Harlem Stage.
The reception attracted local politicians, business leaders, and diplomats, including representatives of Ethiopia's Permanent Mission to the United Nations.
The evening also showcased an exhibition of recent images of Ethiopia by Photojournalist Robert E. Eilets. The photographs were auctioned and helped to raise $2,500 for the new organization.
"This was a terrific launch reception," said Rev. Nicholas S. Richards, President of the Abyssinian Fund. "To see 240 persons, including political dignitaries, the business community and local residents concerned about reducing poverty in Ethiopia through economic development was fantastic."
According Reverend Dr. Calvin O. Butts, III, the church's current pastor – who made a brief introductory remark at the VIP reception – the project was born out of the group's historic trip to Ethiopia two years ago. The pastor, who led over 150 delegates to Ethiopia as part of the church's bicentennial celebration and in honor of the Ethiopian Millennium, told the crowed that the journey rekindled a long but dormant relationship that was last sealed in 1954 with an exquisite Ethiopian cross, a gift from the late Ethiopian Emperor Haile Selassie to the people of Harlem as a symbol of love and gratitude for their support and friendship during Mussolini's invasion of Ethiopia. The cross has since become the official symbol of the church.
"The Abyssinian Fund is inspired by the pilgrimage taken by The Abyssinian Baptist Church to Ethiopia in 2007, "said Rev. Richards in an email after the event. "We saw the biggest enemy Ethiopia faces is poverty, so on our arrival back in the USA, we dedicated our energy and love for Ethiopia to establish an organization dedicated to creating and supporting sustainable development."
The organization hopes to raise one million dollars in the next five years. " The mission of the Abyssinian Fund is to reduce poverty in Ethiopia by increasing the capacity of farming cooperatives and by developing programs for the wider community, which will lead to sustainable improvements in health care, education and access to clean water, Rev. Richards said. "I strongly believe in the success of our goal to develop Ethiopia, one community at a time."
According to the church's official history, in 1808, after refusing to participate in segregated worship services in lower Manhattan, a group of free African Americans and Ethiopian sea merchants formed their own church on Worth Street, naming it the Abyssinian Baptist Church in honor of Abyssinia, the former name of Ethiopia.
Slideshow: See photos from the event:

Related Tadias Magazine stories:
African American & Ethiopian Relations (Tadias)


The Case of Melaku E. Bayen & John Robinson (Tadias)