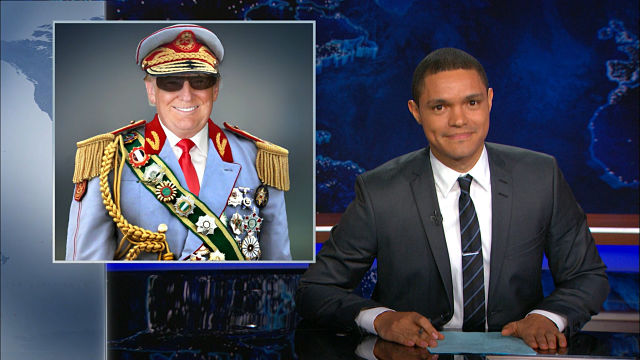 African journalists have tips for their US counterparts on dealing with a president that hates the press
Last week, Washington Post Executive Editor Marty Baron voiced great apprehension about press freedom in the U.S. under a Donald Trump's presidency. "Many journalists wonder with considerable weariness what it is going to be like for us during the next four [years]," Baron said in a stirring speech. "Will we be incessantly harassed and vilified? Will the new administration seize on opportunities to try intimidating us? Will we face obstruction at every turn?"
As America enters the era of a thin-skinned president known for lashing out at press coverage that does not meet his approval, it might be helpful for U.S. news media to draw from the experiences of journalists operating in hostile environments. Many of such environments are in Africa, particularly those countries with long-serving presidents who have been in power for decades.
"There's a thin line between objective critique of the state with regard to security and being called unpatriotic, a terrorist sympathizer."
Ugandan journalist Angelo Izama, a former Knight Fellow at Stanford University, commented with sarcasm on the peculiar situation of U.S. journalists. "I was joking with Charles Onyango Obbo [another Ugandan journalist] about being consultants to American journalists who may now face similar challenges with the advent of the African leader Donald Trump." Izama was probably riffing off Trevor Noah's comic but profound observation that Donald Trump is just like an African president.
Watch: The Daily Show with Trevor Noah – Donald Trump: America's African President
One has to only consider the fact that the only other world leader with a habit of snapping at journalists and other critics with angry tweets is Rwanda's Paul Kagame. The direct comparison between Trump and Kagame probably stops there, but one could also find similarities—in terms of vilification of the press—between Trump and The Gambia's outgoing Yahya Jammeh or Uganda's Yoweri Museveni.
"From the outside looking in, I am kind of feeling bad for journalists under a Trump administration," said Liberian editor Rodney Sieh, who has worked in several U.S. newspapers including the Kansas City Star and The Post Standard in Syracuse, NY. "It is clear to see that American journalists are in for a very tough roller coaster ride."
—
Related:
Donald Trump will lead the US just like an African 'strongman'—that's bad for African democracy
Ethiopia: US-Africa Relations in Trump Era
Join the conversation on Twitter and Facebook.