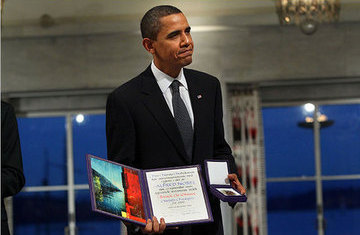 NYT: Formally accepting the Nobel Peace Prize in Oslo on
Thursday, President Obama robustly defended the use of
military force "on humanitarian grounds" and to preserve
peace. Read more.
Video: Obama Accepts Nobel Peace Prize (AP)

Video: MTP reflects on MLK's Nobel
In his Nobel Peace Prize acceptance speech, President Obama
highlighted the words of Martin Luther King, Jr, delivered in
the same ceremony in 1964. In the following video, Meet The Press
reflects on MLK's Nobel.

Visit msnbc.com for breaking news, world news, and news about the economy