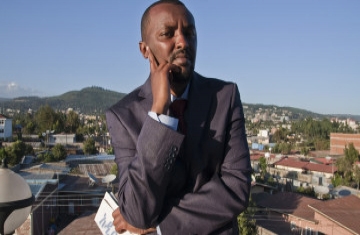 Above: Tamerat Negera, pictured here in his former office in
Addis Ababa, was the editor-in-chief of Addis Neger, a weekly
newspaper in Ethiopia that has closed following a campaign of
intimidation and harassment. The Editor has since left Ethiopia.
(AFP)
ADDIS ABABA — The United States said Thursday it was concerned over the closure of a leading Ethiopian newspaper which said last week it had ceased publication following "months of government harassment". Addis Neger, an Addis Ababa-based weekly often critical of government policies, had also announced that its staff had fled the country for fear of arrest. "The United States considers a vibrant and independent media to be one of the pillars of a strong democracy," the US embassy here said in a statement. "As such, we are concerned about the recent closure of the Addis Neger newspaper, and the allegations of harassment and intimidation of private media," it added.
Guardian
One of Ethiopia's best-read non-government weekly newspapers has shut down and three of its senior staff have fled the country. The editors of Addis Neger say they have faced a government campaign of intimidation and black propaganda. The closure of the Amharic-language newspaper, known for its lively discussion of political issues, comes as campaigning heats up in advance of next May's parliamentary election. Read more.