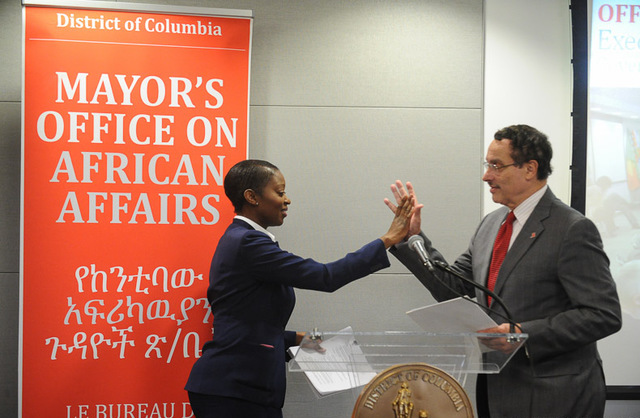 Tadias Magazine
Events News
Published: Tuesday, December 10th, 2013
Washington, D.C. (TADIAS) — Mayor Vincent C. Gray and his Office on African Affairs hosted The 2nd Annual DC to Africa Business Symposium on Monday, November 25th, 2013. The all-day event was held at the Mayor's Citywide Conference Center at One Judiciary Square, and was attended by over 300 local business owners and aspiring entrepreneurs as well as more than 20 business resource providers from District, federal and nonprofit agencies.
The symposium was designed to promote emerging opportunities in U.S.-Africa trade and was coordinated in partnership with the Department of Small and Local Business Development (DSLBD), the Department of Consumer and Regulatory Affairs (DCRA), the US Department of Commerce, and the Office of Community Affairs.
"By connecting our aspiring and existing businesses to resources and opportunities, we diversify our economy and build resilience and sustainability," the Mayor said in his welcoming remarks. "Our 1776 Incubator Program, DSLBD's Export DC Program, our Great Streets Capital Improvement Program, and our new Innovation Hub for Entrepreneurs at St. Elizabeth are just a few examples of the kinds of business development programs we are implementing to nurture entrepreneurship and innovation."
Acting U.S. Deputy Secretary of Commerce Patrick Gallagher noted: "Sub-Saharan Africa has six of the 10 fastest growing economies in the world, which makes Africa poised to be the world's next great economic success story. That is why the Commerce Department launched the Doing Business in Africa Campaign last year — to help American businesses take advantage of that growth and increase exports, which support millions of U.S. jobs."
The 2nd Annual DC to Africa symposium also included breakout sessions tailored to the distinct needs of startups and established businesses provided resources on licensing, counseling services, access to capital, contracting and procurement, international trade financing, export incentives, and country-specific investment opportunities in Africa.
In her speech OAA Director Ngozi Nmezi added: "We're here to encourage and equip the District's African diaspora community to invest in and trade with their countries of origin in Africa by building sustainable enterprises that can simultaneously stimulate the U.S. economy."
Below are photos courtesy of the Mayor's photographer Lateef Mangum:

—
Related:
DC & Addis to Become Sister Cities
Join the conversation on Twitter and Facebook.