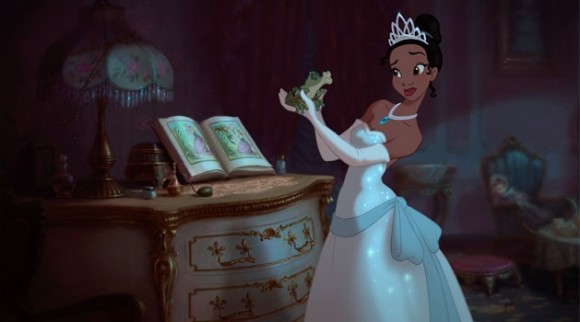 Above: Disney's The Princess and the Frog, featuring the first
African-American princess, dominated the box-office with a $25
million nationwide debut.
Tadias Magazine
By Tadias Staff
Published: Sunday, December 13, 2009
New York (Tadias) – Angelina Jolie, the adoptive mother of 4 year old Zahara, is excited about the new animated family comedy, featuring Disney's first black princess, as a positive influence for her Ethiopian daughter.
The Disney animated musical, The Princess and the Frog, currently number one at the box-office, is a fairy tale about a beautiful princess named Tiana and a frog prince who desperately wants to be a human again. The story takes place in Jazz-filled New Orleans, where a fateful kiss would lead them both on an adventure through the fabled wetlands of Louisiana.
According to OK! magazine: "Angelina Jolie has spoken about how she's ecstatic that her four-year-old daughter Zahara will have a role model thanks to the barrier being broken."
Anika Noni Rose, 37, the actress whose voice is used for Disney's first black princess agrees. "It's wonderful," Rose, told Valerie Nome of OK! magazine. "I think every little girl should be able to feel themselves the princess. I think every little girl is worthy of having a princely young man, and vice versa. It's really thrilling that Zahara will never have a moment where she didn't see herself in that light. She's Ethiopian. She comes from kings and queens. She should certainly know herself as a princess."
Here is the film's trailer:

Video: Princess and the Frog Reaction