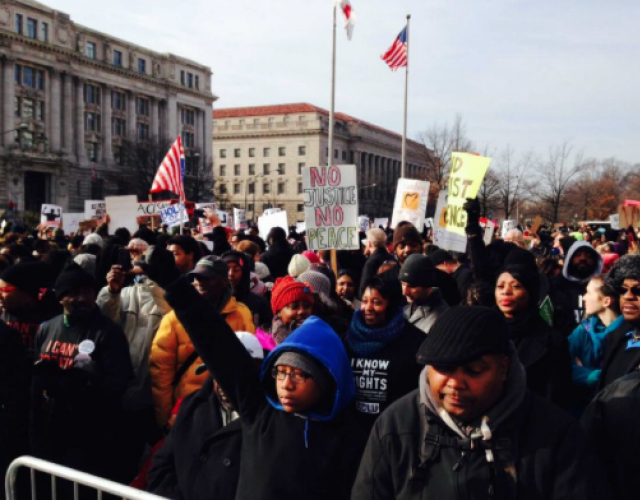 BY: JAMAL WATSON
'A Movement, Not Just a Moment': Thousands March to Call for an End to Police Violence
Armed with posters and a camera, Delores and Shannon King made the three-hour trek from Portsmouth, Va., to the nation's capital on Saturday to join thousands of people gathered for the "Justice for All" demonstration protesting the recent deaths of several unarmed black men at the hands of white police officers.
"We are here to support the cause," said Delores King, who has an 18-year-old son. "This has to become a movement and not just a moment."
The Kings and a sea of protesters marched east on Pennsylvania Avenue chanting, "Hands up, don't shoot." After the march, the Rev. Al Sharpton called on Congress and the U.S. Justice Department to intervene on behalf of protecting black men from law enforcement.
"State grand juries have suspended the right of due process," said Sharpton, founder and president of National Action Network, the civil rights organization he founded in 1991. "We need national intervention."
Protesters came from across the globe to demand an end to police violence and a change in the justice system. Interracial and intergenerational crowds gathered on a brisk winter afternoon—soccer moms next to union members, who were sandwiched between activists and such celebrities as filmmaker Spike Lee and television judge Greg Mathis, all connected through the tragic deaths of unarmed black men.
Video: Thousands March Across U.S. to Protest Police Killings (NBC News)

—
The New York Times
By BENJAMIN MUELLER and ASHLEY SOUTHALL
More than 25,000 people marched through Manhattan on Saturday, police officials said, in the largest protest in the city since a grand jury declined this month to indict an officer in the death of an unarmed black man on Staten Island.
Just before 2 p.m. they began spilling out of Washington Square Park, and after an hour and a half, the park still had not emptied. Walking north toward 34th Street, the protesters filled the cold air by chanting "I can't breathe," the last words of Eric Garner, the Staten Island man, who died from a chokehold after an officer dragged him to the ground on a hot day in July.
The protest, which at times stretched for over a mile, highlighted growing anger nationwide over recent police deaths, including that of Mr. Garner, 43, who officers accused of selling loose, untaxed cigarettes.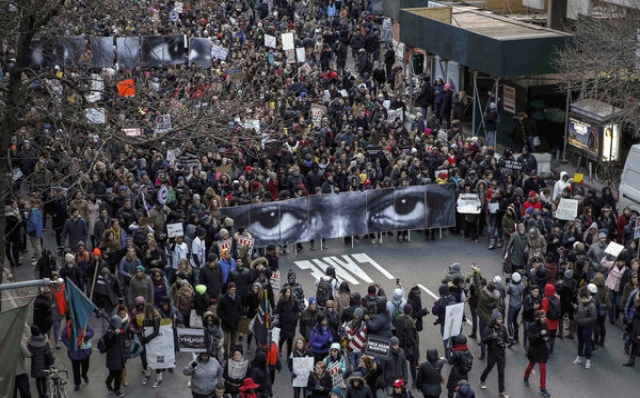 More than 25,000 people marched through Manhattan in New York on Saturday, police officials said. Protesters held up 8 panels depicting Eric Garner's eyes, created by an artist known as JR. (Getty Images)
Read more at NYT »
—
Related:
Tens Of Thousands March On NYPD Headquarters To Protest Police Killings
In DC, Congressional Staffers Walk Out Protesting Garner & Brown Decisions
Join the conversation on Twitter and Facebook.