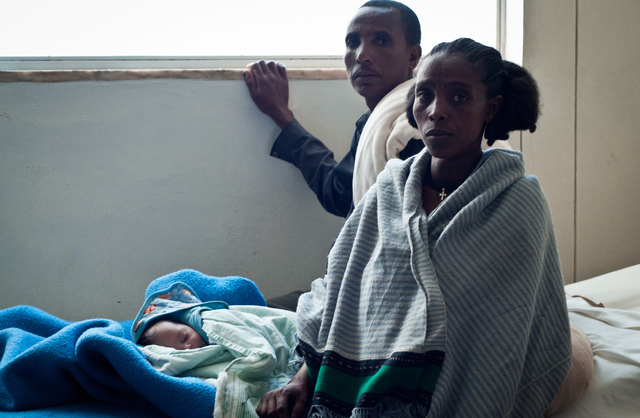 Tadias Magazine
By Tigist Selam

Updated: Sunday, December 16, 2012
New York (TADIAS) – Earlier this month I attended one of the screenings of the documentary film Sister as part of the recently concluded African Diaspora International Film Festival here in New York.
An intimate portrait of a universal topic, the documentary frames maternal and newborn death as a human rights issue while shedding light on the faces behind the statistics. The film takes place in Ethiopia, Cambodia and Haiti as it explores innovative ways to deliver healthcare to childbearing women in remote parts of the world. The main characters are a Haitian traditional birth attendant, an Ethiopian male health officer, and a rural midwife in Cambodia.
The filmmaker, who is a Canadian citizen and a resident of New York City for the past 20 years, said she chose to highlight Ethiopia because the country is trying "new strategies and local solutions" to tackle the issue. "I am especially fascinated by Ethiopian healthcare professionals who used to be field medics during the civil war in the North who have now been retrained with further skills for civilian work."
"In 2008, I was documenting a heath record training for health workers from Africa and Asia," Brenda said. "I spent 3 weeks with them and involved in several activities including filming lectures in the city. One of the attendees was a health-care officer from Ethiopia named Goitom Berhane. When I got home and started transcribing their stories I found myself just weeping. And I told myself I have to make a movie about this." Berhane eventually ends up being prominently featured in the film.
"The subject has been floating around me my whole life," she continued. "As a child, my grandmother Martha had 16 children and only 11 lived and one of them was my mom." She added: "And I was born by an emergency cesarian. I was the last of eight children."
Brenda said that she finds parallels to her own family story and what most young women face in developing countries today. "There is a great research paper called 'Under the Shadow of Maternity' about childbirth and women's lives in North America at the turn of the last century and the issues were the same. My grandmother was giving birth to stillborn babies between 1919 and 1939. People did not have all the resources, all the information; they did not know, they did not ask the right questions. It was a mystery to them. They were poor, they did not have access to family planning."
Brenda's interest is to document "current and local solutions" to the age-old health problem.
—
For news and updates about the film follow @Sister_Doc on Twitter, SisterDocumentary on Facebook, or visit: sisterdocumentary.com.
Watch the teaser trailer here

—
Join the conversation on Twitter and Facebook.