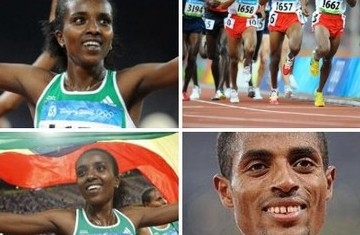 Above: Ethiopians brought two gold medals each in the
5,000m and 10,000m games in the 2008 Beijing Olympics.
The Angola Press Agency
Saturday, December 20, 2008 9:05
Luanda – Ethiopia is the seventh country to confirm its participation at the 53rd edition of the São Silvestre race, which shall be held on December 31, in Luanda, ANGOP learnt on Friday from a source of the Angolan Athletics Federation (FAA).
The director of the race, Domingos Castro, who did not reveal the names of the Ethiopians, guaranteed that the delegation will arrive with two athletes (males/ladies). To the official, the presence of runners from this country with a great tradition in long-distance races will give more value to the São Silvestre.
Other countries that have already confirmed their participation are Zambia, Cape Verde, Mozambique, Zimbabwe, Kenya and Portugal.
With five runners, Kenya shall be the biggest foreign delegation, which will include the titleholders, Elijah Nuyabuti and Grace Momany, who shall be strengthened by the 2005 champion, Margareth Okoio.
These athletes will compete alongside Zimbabwe, with three runners, namely George Majaji Samukeliso Moyo and Sharon Paysnewa, Zambia (Tony Wamulwa and Lizzie Chansa), Cape Verde (Adilson Spencer, Eva Sanches), Mozambique (Joaquim Mateus and Albertina Paulo) and Portugal (Paulo Guerra).
Angola shall be represented by Avelino Dumbo and Ernestina Paulino.