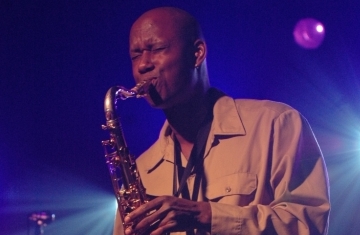 Above: Ethiopian-American musician Teodross "Teo" Avery is
creating his own niche in the American hip-hop jazz scene.
Published: Friday, December 19, 2008
New York (Tadias) – What does Teodross "Teo" Avery have in common with jazz giants Dizzy Gillespie, Tito Puente, and Arturo Sandoval? They all have graced the stage of The Blue Note, one of New York's legendary jazz clubs in the heart of Greenwich Village.
Avery, a talented Ethiopian-American musician is carving his own niche in hip-hop jazz, and all eyes were on him as he played his tenor saxophone with confidence and ease, seamlessly transitioning between his original work and pieces from Earth Wind & Fire, John Coltrane and Mos Def.
Avery has recorded and collaborated with other powerhouse musicians including: Aretha Franklin, Lauryn Hill, Shakira, Wu Tang Clan, and Amy Winehouse. Films such as Love Jones, Brown Sugar and Beauty Shop also carry songs he has either written or produced.
His own lyrics entitled New Day New Groove and My Generation capture the proactive, idealistic and determined energy of his generation.
Avery's strong interest in music developed at an early age. He was born and raised in the Bay Area, California, from an Ethiopian mother and African American father. His parents encouraged his interest in music by exposing him to a wide variety of music. His mother fondly recalls the comments of a Bay Area piano store owner as perhaps the earliest testament of Avery's destiny as a musician. Intervening on behalf of the then 4 year old, crying hysterically at his mother's stern words not to touch any of the pianos at the store, the owner gave little Teo permission to play on any of the pianos for as long as he liked, telling his mother to encourage her son's interest in music and that he may become a great musician some day.
Avery credits his father as the earliest and most significant supporter of his artistic aspirations. His father bought him his first guitar at the age of 5 and enrolled him in classical guitar lessons. After years of guitar lessons, Avery developed a strong interest in jazz and later settled on the saxophone as his instrument of choice. His father recalls that in his early teens, Avery often took his horn to Bay Area jazz concerts and joined the likes of Nat Adderley, Jimmy Smith and Art Blakey on stage.
Avery went on to win a full scholarship to the prestigious Berklee College of Music at the age of 17 and later earned his Masters degree in Music from NYU's Steinhardt School of Education. His talent and versatility is demonstrated by the diversity of artists he has worked with including: Matchbox Twenty, Leela James, Talib Kweli, Ethiopian artists Abegaz Shiota and Henok Temesgen, Dee Dee Bridgewater and the late great Betty Carter, among many others.
I had a chance to chat with Teo about his music and his upcoming show in Washington D.C. at the Blues Alley.
How would you describe your musical style?
My style of hip-hop jazz is instrumental… hip-hop beats with jazzy horns on top. I also mix jazz with house music, funk and Brazilian music. Sometimes I feature rappers, but most times I feature the instruments.
Tell us about your latest album. Why is it titled "Bridging the Gap"?
Bridging The Gap is a concept that I came up with after witnessing the huge gap between jazz and hip-hop. There's a group of people that like jazz but often are ignored. They are the same jazz listeners that listen to Tribe Called Quest, Mos Def, Common, and Pete Rock & CL Smooth. Bridging The Gap represents that link.
You give a tribute to John Coltrane at your shows. How has he influenced your music?
Well, John Coltrane single-handedly influenced me to become a jazz musician. His music is full of love and emotion, and it's always challenging. When I listen to John Coltrane, I hear a love for God and Coltrane's desire to become a better person. I've always been a person that likes challenges and I've always wanted to go beneath the surface.
What is the most rewarding aspect of your life as an artist?
The most rewarding time is when I see people connect to a song that I wrote. See, people don't know the struggle that artists have to overcome before they're inspired to write songs. They hear the final product. Any artist that has struggled in life to be here today and to tell their story through their instrument is lying if they say that they don't appreciate fans that love their art. The fans make it all worth it!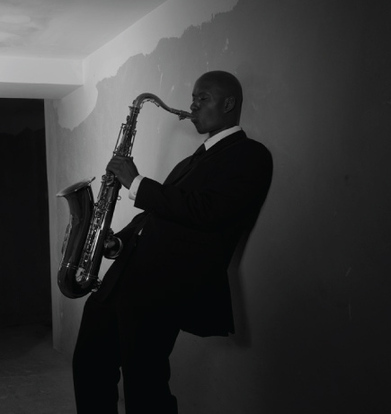 Teo, photo from teodrossavery.com
Any plans to work with Ethiopian artists?
I have already worked with Ethiopian artists. I played with Abegaz Shiota and Henok Temesgen. They're good friends of mine. We attended The Berklee College of Music together. Mulatu Astatke has expressed some interest in working together. I also played a concert in Oakland with Mahmoud Ahmed. Wow! He gave a great show.
————-
Teo will perform at the Blues Alley in Washington, D.C., on February 3rd, 2009.
Download the "Bridging the Gap" mix tape at www.teodrossavery.com. For more information on Teodross Avery's upcoming show in D.C., please visit www.bluesalley.com.
About the Author:
Adey Tsega is an Epidemiologist based in New York City.