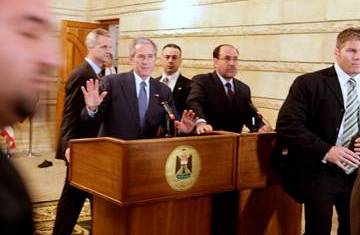 Above: President George W. Bush reacts after a man threw
two shoes at him during a news conference with Iraqi Prime
Minister Nouri al-Maliki on Sunday. (Evan Vucci / AP)
BBC
Thursday, 18 December 2008
The Iraqi journalist who threw his shoes at US President George W Bush has apologised to Iraqi PM Nouri Maliki, the prime minister's office says.
Local TV reporter Muntader al-Zaidi wrote a letter to Mr Maliki asking for forgiveness over his "ugly act", prime minister's spokesman Yasin Majeed said.
Mr Zaidi has been in custody since he threw shoes and shouted insults at Mr Bush during Sunday's news conference.

Muntader al-Zaidi has been charged
with "aggression against a president"
His actions have made him a hero in some quarters of the Arab world.
Iraqi officials have described the incident as shameful.
Mr Zaidi has been charged with "aggression against a president", which carries a prison sentence of up to 15 years.
'A lie'
Yasin Majeed said Mr Maliki had received a contrite letter from the journalist.
"Zaidi said in his letter that his big ugly act cannot be excused," Mr Majeed said.
He said Mr Zaidi added: "But I remember in the summer of 2005, I interviewed your excellency and you told me, 'Come in, this is your house'. And so I appeal to your fatherly feelings to forgive me."
However, according to Reuters news agency, one of Mr Zaidi's brothers expressed scepticism over the merits of the letter.
"This information is absolutely not true. This is a lie. Muntader is my brother and I know him very well. He does not apologise," Udai al-Zaidi said.
He added: "But if it happened, I tell you it happened under pressure."
'Signs of blows'
Judge Dhiya al-Kenani said the shoes at the centre of the incident had been destroyed by US and Iraqi security agents when they were checked for explosives.
"I would have preferred to have had the shoes as evidence for the case but since Muntader al-Zaidi has confessed to his action and that the television pictures confirm it, the investigation can continue," he told the AFP news agency. Read more at BBC.
Video: Bush Dodges Shoes Thrown by Iraqi Journalist