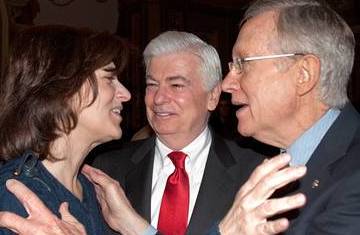 Above: Victoria Kennedy and Sen. Harry Reid celebrate after
the Senate OKs landmark insurance overhaul on a 60-39 vote.
(Harry Hamburg / AP)
Associated Press
WASHINGTON – Senate Democrats passed a landmark health care bill in a climactic Christmas Eve vote that could define President Barack Obama's legacy and usher in near-universal medical coverage for the first time in the country's history. The 60-39 vote on a cold winter morning capped months of arduous negotiations and 24 days of floor debate. It also followed a succession of failures by past congresses to get to this point. Vice President Joe Biden presided as 58 Democrats and two independents voted "yes." Republicans unanimously voted "no." Read more.
Video: Senate passes historic health care bill

Video: Obama reflects on 'century-long struggle'

Visit msnbc.com for breaking news, world news, and news about the economy
Video: Senate Dems praise health bill's passage

Visit msnbc.com for breaking news, world news, and news about the economy