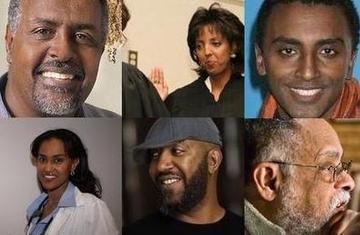 Tadias Magazine
By Tadias Staff
Updated: Wednesday, December 23, 2009
New York (Tadias) – Tadias Magazine is proud to present our list of people of the year for 2009. The list includes researchers, social entrepreneurs, authors, filmmakers, artists and musicians, whose inspiring work has made an impact far beyond their individual accomplishments.
Below is our top ten list of Ethiopian-Americans. As always, we welcome your additional suggestions.
The 2009 World Food Prize, considered by many to be the Nobel Prize of agriculture, was awarded to Dr. Gebisa Ejeta, a Purdue University Professor, whose sorghum hybrids resistant to drought and the devastating Striga weed have dramatically increased the production and availability of one of the world's five principal grains and enhanced the food supply of hundreds of millions of people in sub-Saharan Africa. We congratulate Dr. Ejeta on his accomplishments.
Dr. Yared Tekabe's groundbreaking work on non-invasive atherosclerosis detection and molecular imaging was published in the American Heart Association's journal, Circulation, along with an editorial citing its clinical implications. Tekabe, who runs studies in cardiovascular disease detection and prevention at Columbia University, has helped his laboratory, headed by Dr Lynne Johnson, to receive another $1.6 million four-year grant from the National Institute of Health to continue his research. Tekabe hopes that in a few years time his work can similarly help heart disease prevention efforts and early detection of atherosclerosis in humans. We extend our heartfelt congratulations to Dr. Tekabe for his his continued scientific efforts.
Nina Ashenafi Richardson, who was elected to the Leon County bench in Florida on November 4th, 2008 and received the oath of office from Chief Justice of the Florida Supreme Court Peggy A. Quince on Friday, January 30, 2009, is the first Ethiopian-American judge. Born in Ethiopia, Nina came to the U.S. as a young girl and was raised by her late father Professor Ashenafi Kebede, the renowned Ethiopian composer and musicologist, who was the Founder and first Director of the National Saint Yared School of Music in Ethiopia. Judge Nina, a mother of two, was also the the first African-American woman to head the Tallahassee Bar Association and the first African-American to lead the Tallahassee Women Lawyers (TWL). Tadias congratulates Judge Nina Ashenafi Richardson on her accomplishments!
In a rare gesture by the White House, chef Marcus Samuelsson was invited to prepare the Obamas' first State Dinner honoring Indian Prime Minister Manmohan Singh. First Lady Michelle Obama called Marcus "one of the finest chefs in the country." And as Politico reported: "The importance was not lost on Samuelsson. Waking up on Wednesday morning, after about three hours of sleep, he had not yet come down from his high. 'It was the biggest dinner I cooked in my life — in terms of the occasion,' said the chef, born in Ethiopia, raised by a Swedish couple in Sweden and now a naturalized American." We extend our congratulations and wish Marcus Samuelsson continued success!
Mehret Mandefro was named by President Obama as one of the 2009/2010 White House Fellows. Mandefro is a Primary Care Physician and HIV prevention researcher. She was a Robert Wood Johnson Health and Society Scholar at the University of Pennsylvania and a Senior Fellow at the Leonard Davis Institute of Health Economics. Her research addresses the intersection of violence prevention and HIV prevention and the application of digital media in translating research. She completed a Primary Care internal medicine residency at Montefiore Hospital where she founded a nonprofit called TruthAIDS that is focused on health literacy efforts among vulnerable populations. She received a BA cum laude in Anthropology and a Medical Doctorate from Harvard University, and a Masters of Science in Public Health from the London School of Hygiene and Tropical Medicine as a Fulbright Scholar. We congratulate Dr. Mehret Mandefro on her accomplishments!
Dr. Abraham Verghese is the author of the well received Cutting for Stone, an epic novel about a young man's coming of age in Ethiopia and America. From fascinating social and political portraits of Ethiopia in upheaval, Cutting for Stone zooms into a territory where few have gone before: the drama of the operating theater and the mysteries inside the human body. There can be no doubt that Verghese is one of the most seasoned writers of his generation. Verghese's own career as a physician in the United States has taken him from his grueling days as a foreign medical graduate (recounted in The New Yorker article, The Cowpath to America) to becoming the voice of empathetic medicine. As Founding Director of Center for Medical Humanities & Ethics at the University of Texas and in his current role as a Professor at Stanford University, Dr. Verghese is a champion in the field of Medical Humanities.
Haile Gerima, the internationally acclaimed director of Teza, Sankofa, Adwa, Bush Mama and other feature films and documentaries, sparked a healthy discussion among the Ethiopian American community this year about the tumultuous years of the Mengistu era as depicted in his latest film Teza as told by an idealistic Ethiopian doctor who recounts dreams and nightmares. The film made its U.S. premiere in Washington D.C. this past fall.
Ted Alemayuhu, founder & CEO of U.S. Doctors for Africa, a California based non-profit organization, played host to the first-ever African First Ladies U.S.-based health summit on Monday, April 20, 2009 in Los Angeles. The event, which included a performance by Natalie Cole and a luncheon hosted by California first lady Maria Shriver, engaged the First Ladies in identifying top priorities for the coming year related to maternal and child health, HIV/AIDS and Education. We congratulate Mr. Alemayuhu on his continued innovative approach to bettering the lives of millions of Africans!
Ethiopian American artist Julie Mehretu was a subject of a PBS documentary that aired on October 28, 2009. Mehretu has exhibited in some noteworthy venues – The Museum of Modern Art in New York (the only Ethiopian artist whose work is represented in MoMA's permanent collection), The Whitney Biennial, The Istanbul Biennial, The Busan Biennale in Korea, The Walker Art Center, and her work is currently on display at the San Francisco Museum of Modern Art and the Museum of Contemporary Art in San Diego.
Tommy T, bass player for the New York-based multi-ethnic gypsy punk band Gogol Bordello, released his first solo album entitled The Prestor John Sessions this year. The album includes collaborations with Gigi, Tommy T's brother & bassist Henock Temesgen, members of the Abyssinnia Roots Collective, and a bonus remix including Gogol Bordello bandmates Eugene Hütz and Pedro Erazo. Tommy describes The Prestor John Sessions as "an aural travelogue that rages freely through the music and culture of Ethiopia." Most importantly, the title of his album has inspired scholars to research the true identity of Prestor John. We congratulate Tommy on his album!