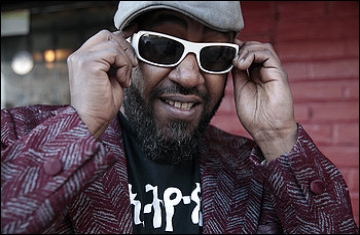 Above: Tommy T Gobena, one of Tadias Magazine's Top Ten
Notable Ethiopian-Americans of 2009, is the the bass player
for gypsy punk powerhouse Gogol Bordello. (Dayna Smith –
for The Washington Post)
Washington Post
By Chris Richards
Sunday, January 3, 2010
It's breakfast time at Dukem, the popular Ethiopian restaurant on U Street NW, but Thomas "Tommy T" Gobena orders lunch. In a city of red-eyed, Cinnabon-scarfing frequent fliers, he might be the most jet-lagged man in Washington. Gobena lives in Alexandria but will spend most of this new year in the air and on the road, playing bass for Gogol Bordello, a merry band of self-branded "Gypsy punks" scheduled to hit about 200 stages across the globe in 2010. Days earlier, Gobena was wowing a crowd of 20,000 in Mexico City. In a few days, he'll be at it again in St. Petersburg, Russia.
Read more.
Related from Tadias
Interview with Tommy T.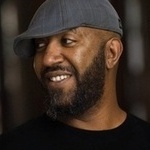 Tommy T (Thomas T. Gobena), bass player for the New York-based multi-ethnic gypsy punk band Gogol Bordello, has released his first solo album entitled The Prestor John Sessions. The album includes collaborations with Gigi, Tommy T's brother & bassist Henock Temesgen, members of the Abyssinnia Roots Collective, and a bonus remix including Gogol Bordello bandmates Eugene Hütz and Pedro Erazo. Tommy describes The Prestor John Sessions as "an aural travelogue that rages freely through the music and culture of Ethiopia." His debut album features the diversity of rhythms and sounds of Ethiopian music – as multi-ethnic as has become the Lower East Side Gypsy band that has taken the world by storm. Who else but Tommy would produce an Oromo dub song featuring Ukranian, Ecuadorian, and Ethiopian musicians? We spoke to Tommy T about life as a Gogol Bordello member, the influences on his music, and the story behind The Prestor John Sessions. Normally Tommy T punctuates everything he says with so much humor that it's difficult not to be immersed in sporadic moments of pure laughter. His message in this interview, however, remains serious: Are you ready to change the way you listen to and classify music? Read more.
Video: Gogol Bordello on David Letterman