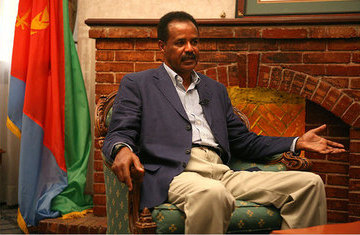 Above: Eritrea says it has killed 10 Ethiopian soldiers and
captured two accusing its neighbor of launching the attack.
Ethiopia denies the claim. (Photo: President Afewerki – NYT)
AFP:
Eritrea accused arch-foe Ethiopia on Sunday of launching attacks along their disputed border but said its troops had driven off the assault, killing 10 Ethiopian soldiers and capturing two. The Eritrean foreign affairs ministry said soldiers from Ethiopia's ruling Tigrai People's Liberation Front (TPLF) had attacked on Friday in the Zalambesa area. Ethiopian officials were not immediately available for comment. Read more.
Reuters
Eritrea says it killed 10 Ethiopian troops
Sun Jan 3, 2010
Bereket Simon, the Ethiopian government's head of information, accused the Eritrean government of trying to cover up an attack by Eritrean rebels in which 25 Eritrean government soldiers were killed. "This new allegation that it killed Ethiopian soldiers is an attempt by the regime in Asmara to deflect its internal crisis by implicating Ethiopia," he told Reuters. Read more.