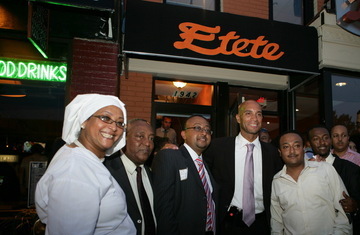 Above: Etete Ethiopian restaurant in Washington, D.C., has
earned a recognition from Washingtonian magazine as one of
the "100 Very Best Restaurants" (Photo: Mayor Adrian Fenty
poses with the owners in July 2009. – DJ Photography)
Updated: Wednesday, January 6, 2009
Nazret.com has reviewed the hard copy of the 2009 list
and first reported the story here.
The following is a 2008 ranking published in January 2009:
Washingtonian's 100 Best Restaurants
Among local Ethiopians, the name Tiwaltengus Shenegelgn is on par with the name Michel Richard among foodies. Stevie Wonder seeks her out whenever he's in town. What's the fuss? Etete, as Shenegelgn is known—it means "mama" in Amharic—cooks with the finesse of a demanding craftswoman, her peppery stews hearty and complex but never burdensome. Read more.
Related from Tadias Archives
Photos from Mayor Adrian M. Fenty's Fundraiser at Etete
A fundraiser was held for Mayor Adrian M. Fenty at Etete Ethiopian restaurant in Washington, D.C. on July 30, 2009. The event was hosted by Ethiopian-American businessman Henok Tesfaye, President of U Street Parking, Inc., who gave the restaurant to his mother as a gift. The fundraiser attracted a diverse crowd of both Ethiopians and non-Ethiopians who paid between $500 and $2000 per contributor in support of the the Mayor's 2010 re-election campaign. Here are photos courtesy of DJ Photography.