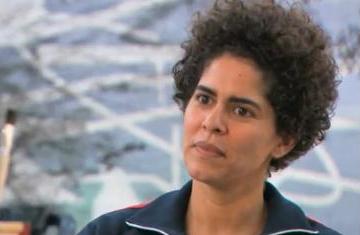 Tadias Magazine
By Tadias Staff
Updated: Sunday, October 4, 2009
New York (Tadias) – Julie Mehretu will appear in Season 5 of the art21 television series scheduled to air on PBS later this month.
Mehretu has exhibited in some noteworthy venues – The Museum of Modern Art in New York (the only Ethiopian artist whose work is represented in MoMA's permanent collection), The Whitney Biennial , The Istanbul Biennial, The Busan Biennale in Korea, The Walker Art Center, and her work is currently on display at the San Francisco Museum of Modern Art and the Museum of Contemporary Art in San Diego.
In her art, we are used to seeing Supermatist derived, large scale works with layers of freehand curvilinear forms often juxtaposed against structured forms such as the facades of Bauhaus-like edifice. Some of her drawings depart from the Supermatist heritage in a virtuoso display of biomorphic shapes. In one drawing done in a calligraphic hand (shown at the Project Gallery in 2005 and covered in our print issue), a fanciful fishing eagle of a bird hovers over spiraling surf and beach flotsam and jetsam.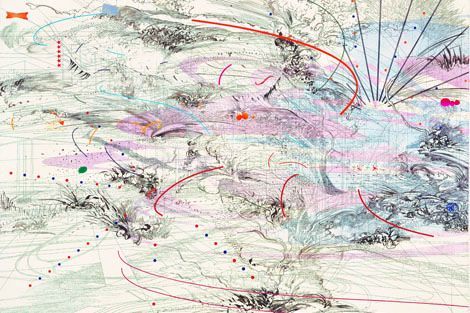 Julie Mehretu, Immanence, 2004, ink and synthetic polymer on canvas, 72 x 96
inches, Mehretu-Rankin Collection, Courtesy of the artist and The Project, NYC.
Photo by Christian Capurro..
Julie Mehretu was born in 1970 in Addis Ababa, Ethiopia, and raised in East Lansing, Michigan. She holds an undergraduate degree from Kalamazoo College in Kalamazoo, Michigan and a Master of Fine Arts from the Rhode Island School of Design. She lives and works in New York.
Video: Excerpt from the show – Catch the episode on October 28
at 10pm (ET) on PBS (check local listings).