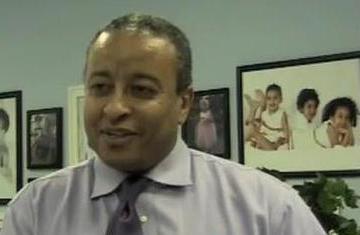 Above: Dr. Ebba K. Ebba, founding member of The Gemini
Health Care Group, a non-profit established to provide
health care to children.
Source: 50 in 52 Journey
An Ethiopian born immigrant who became a Pediatrician Dr. Ebba wanted to make a difference in the lives of Children in his home country. Not content to just volunteer his time he wanted to make as big a difference as possible so he had undertaken a dream to build a Children's Hospital so that it won't just be the power of one but of many to help the children. Watch this powerful video of one man making a huge difference and listen to important advice he has for anyone who has a dream.
About 50 in 52 Journey
50 in 52 Journey is a non-profit company inspired by one woman, Dafna Michaelson, and supported by a wide network of businesses and individuals. The mission: "To find the people who are moving America forward; to share and celebrate the incredible ways in which ordinary people do extraordinary things every day; and to bring together both problems and solutions with idea-generators and problem-solvers through the 50 in 52 Journey foundation." Learn more.