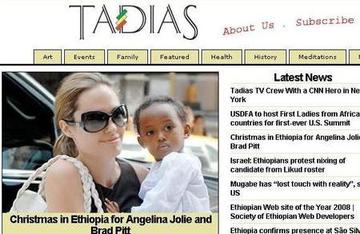 By Tadias Staff
Published: Friday, December 26, 2008
New York (Tadias) – Tadias Magazine will announced its first annual listing of the top ten websites on New Year's Eve Wednesday, December 31, 2008. The listing will include Ethiopian American related websites (not all Ethiopian) in several categories including news, business, art, fashion, entertainment, music, internet radio and non-profit organizations. If you would like your website to be considered for inclusion or have ideas or suggestions to share, please contact us at info@tadias.com.
In the mean time, here are Alexa's top sites in news and media under the following categories: Society, Ethnicity, African, and African-American. See if you can find Tadias.com.
Source: Alexa
All listings in the 'News and Media' category and its subcategories ordered by popularity.
1. Vibe Magazine



Covers hip hop/urban culture with a focus on music. Articles, interviews, and subscription information.
More site info for Vibe
2. EURWEB.com



Home of the Electronic Urban Report (EUR).
More site info for eurweb.com
3. DiversityInc



Daily website reporting on diversity and the bottom line, includes a career center with over 20,000 jobs from companies looking to recruit a diverse audience. Site info for diversityinc.com Site Info icon
4. AfricanAmerican News And Information



"The source for news,entertainment, sports,politics,education and other topics of interest to the AfricanAmerican community. Constantly updated. Includes large Black History section. More site info for tncn.con.
5. Sister 2 Sister magazine



Online version of the popular magazine covering the world of black entertainment. More site info for s2smagazine.com
6. Black Enterprise


Information regarding entrepreneurship, technology, personal finance and other minority business issues. More site info for blackenterprise.com.
7. TheSource.Com



The online version of the popular Hip-hop music magazine that provides news coverage of urban music, African American issues, youth culture and politics. More site info for thesource.com.
8. The Final Call Online



Companion site to the paper of the same name, published by Minister Louis Farrakhan. More site info for finalcall.com
9. Ebony Magazine Online



Ebony magazine is one of the oldest African American magaznes and most successful. It provides business, health, fashion, sports, entertainment and general news about African Americans. More site info for ebony.com.
10. Target Market News.com
Provides corporate marketing news that targets minorities, including African Americans. More site info for targetmarketnews.com.
11. Multiple Shades of You Online



msoy online is an e-comunnity for people of color. Search Engine, Black Teen Zine, clipart, forums, entrepreneur resources, blogs, everything and all things black is on msoy. More site info for msoyonline.com.
12.Tadias


Online magazine that is tailored towards the Ethiopian-American community. Topics covered include business, health, opinions, fashion, art,culture, history, reviews, parenting, diaspora, music and events. More site info for tadias.com.
13. Politopics



Centrist political commentary from an African-American perspective. More site info for politopics.com.
14. San Francisco Bay View



Weekly newspaper dedicated to the enlightenment and empowerment of the African American community with news and views not offered by traditional media. More site info for sfbayview.com.
15. Redding News Review



Providing up-to-the-minute black news updates. More site info for reddingnewsreview.com.
16. Mybrotha.COM – Online Magazine For Black Men



Online magazine dedicated to providing information, education and entertainment resources to Black men and the Black Community. Site info for mybrotha.com.
17. Upscale Magazine



Provides business and entertainment news, health, beauty, and lifestyle information for African Americans. More site info for upscalemagazine.com.
18. BlackPressUSA



The joint web presence of America's Black community newspapers and the NNPA News Service – the last national Black Press news wire. The only national website featuring news exclusively from African-American journalists and Black community publications. More site info for blackpressusa.com.
19. MIMI Magazine



A lifestyle magazine for young African women, covering fashion, fitness, entertainment and cultural issues. More site info for mimimagazine.com.
20. BlackElectorate.com



Where culture, economics and politics meet. More site info for blackelectorate.com.
Related: Hot Blog | Top 10 Ethiopian Websites – 2008