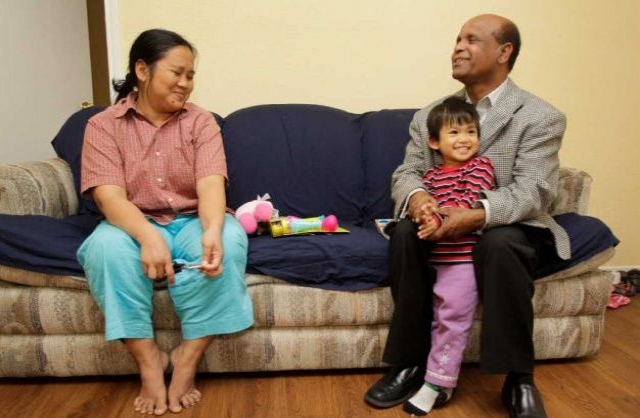 By Susan Carroll
The little girl came running in her purple leggings as Geleta Mekonnen walked up to the door of a southwest Houston apartment, clutching a gift bag that held a pink baby doll that giggles.
"This is for you," Mekonnen told 2-year-old Naw Elizebeth, sweeping her into a hug and handing her the gift bag.
Mekonnen, who oversees the refugee reception and placement program for Interfaith Ministries in Houston, has helped thousands of refugees from across the globe adjust to life in Houston during the past 20 years. He greeted the girl's mother, 41-year-old Naw April Kyaw, on Thursday afternoon and sank down onto the couch in the family's sparsely furnished living room, their home since arriving in the U.S. as Burmese refugees on Nov. 26.
"How is everything? How is your husband's job? How is your health?" Mekonnen asked.
Mekonnen, 56, spends much of his time helping refugees find work and navigate complicated government bureaucracies to get Social Security cards, access to Medicaid and other services.
Read the full article at the Houston Chronicle.
————