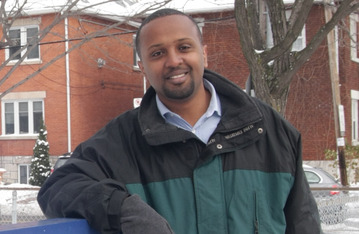 Above: Samuel Getachew, former candidate for City Council in
Toronto and an advocate for 'Little Ethiopia' business row. (CP)
BY NATALIE STECHYSON
From Thursday's The Globe and Mail
Published: Wednesday, Dec. 29, 2010
Samuel Getachew is the first to admit he's an ambitious man, and over steaming mugs of bitter kaffa at Wanza Restaurant, he makes no apologies for his big dreams or the people who oppose them.
"I'm proposing changes," he said matter-of-factly in the Danforth Avenue Ethiopian eatery. "Change always gets attacked when it's moving forward."
And Mr. Getachew's dream of a "Little Ethiopia" on Danforth Avenue, as improbable as it seems, is moving forward. After more than a year of being told "no" by the board of one of the biggest Business Improvement Areas in the city, the 34-year-old helped organize a new slate of board candidates for the Danforth Mosaic BIA elections.
Twelve of the new candidates were elected on Dec. 2, effectively usurping the old board. Three of the 12 are Ethiopian – two own restaurants in the area and one is an accountant. Mr. Getachew said he's confident Little Ethiopia will now be back on the table.
"Hopefully, we are the BIA this time and now they will listen to us," Mr. Getachew said with a grin.
Read more at The Globe and Mail.
Related:
Big dreams for 'Little Ethiopia' dashed (The Globe and Mail)
Samuel Getachew Enters City Council Race In Toronto (Tadias)
(Cover image: Courtesy Photo – Tadias file).