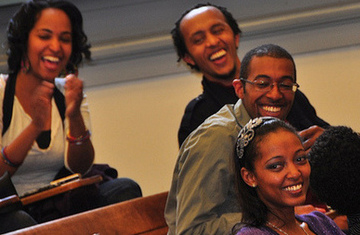 Above: The Ethiopian Students Association International will
hold its 11th annual summit in Pennsylvania. (Photo by ESAI)
Tadias Magazine
Events News
Updated: Wednesday, January 5, 2011
New York (Tadias) – Ethiopian Students Association International (ESAI) will hold its 11th annual summit at the University of Pennsylvania, from March 18th to March 19th, 2011.
According to the organizers, the two-day event will feature various seminars, workshops and keynote speakers, including a talk by young entrepreneur Eskat Asfaw, founder of College Shuttle, and Lull Mengesha, author of The Only Black Student.
The upcoming summit will be hosted by the Philadelphia Ethiopian Students Association. ESAI was founded at Marymount University in Virginia in 1999 as an inter-campus network among Ethiopian students. Each year local student groups compete for a chance to host the annual gathering in their city. Last year's conference was held outside the United States for the first time in Toronto, Canada.
Entertainment programs at the Philadelphia summit will include the annual cultural show mixed with fun highlights of eskista and a history contest.
If You Go:
11th Annual ESAI Summit
University of Pennsylvania
Houston Hall
March 18-19, 2011
9:00 a.m-3:30pm
3417 Spruce Street Philadelphia, PA, 19104
(At the Bodek Lounge Room 100)
Learn more at: www.esai.org
Cover image: At the 10th Annual ESAI Summit in Toronto, Canada. (Photo ESAI via Flickr)