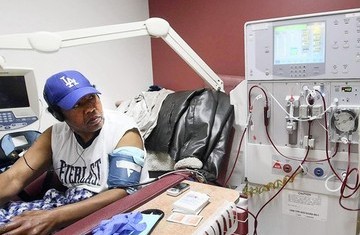 Above: L.A.'s Ethiopians hold a fundraiser to help the ill Seifu
Makonnen, a former Olympic boxer. (Photo Los Angeles Times)
Los Angeles Times
By Kate Linthicum
January 3, 2011
Fairfax Avenue, where the smells of cumin and roasting coffee carry down the street. With handshakes and cries of "Salaam!" he greets a dozen men and women who have gathered in the back room of a friend's restaurant to organize a fundraiser for Seifu Makonnen, a fellow Ethiopian immigrant who is ill.
Nearly every month in Los Angeles, Ethiopians host a benefit like this one. Earlier this year, at events for two compatriots with cancer, Abebe's group raised more than $55,000.
It's not as if they have time or money to spare. Many Ethiopians here work as taxicab drivers or parking attendants, and most send large remittances to relatives back home. But they give because they know that if ever they need help, they will get it. They give because this is a community that takes care of its own. Read more.
Photo credit: Brian van der Brug, Los Angeles Times / December 31, 2010.