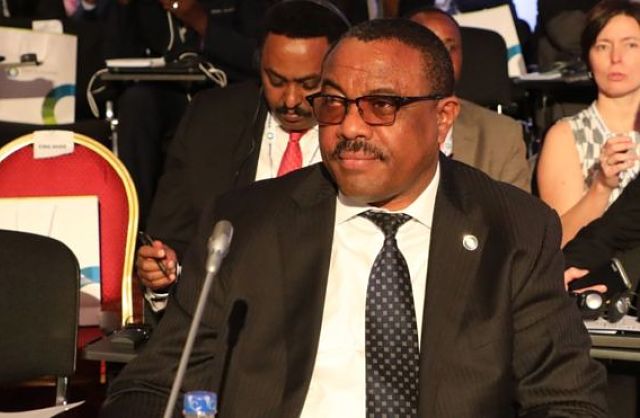 In a surprise move, Ethiopia's prime minister has announced the release of political prisoners and the closure of a notorious detention centre, allegedly used as a torture chamber.
Hailemariam Desalegn told a press conference the move was designed to allow political dialogue.
But it is unclear exactly who will be released – or when it will take place.
Ethiopia, a staunch ally of the West, is accused by rights groups of using mass arrests to stifle opposition.
Amnesty International welcomed Mr Hailemariam's announcement, saying it could signal "the end of an era of bloody repression in Ethiopia" – although warned the closure of Maekelawi detention centre should not be used to "whitewash" the "horrifying" events which took place under its roof.
Rights groups have previously accused the government of using anti-terrorism laws to jail its critics.
Who are the political prisoners?
Those held in jails across the country include opposition activists from the Amhara and Oromia regions, which were at the centre of anti-government protests in 2015 and 2016, as well as the Southern Nations and Nationalities Peoples Region, and journalists who have criticised the government, says BBC Ethiopia correspondent Emmanuel Igunza.
The prisoners also include UK citizen Andargachew Tsege, who was seized in 2014 when changing planes in Yemen and forced to go to Ethiopia, where he had been sentenced to death in absentia for his political activities against the state.
It is difficult to know exactly how many "political prisoners" there are, but our correspondent estimates there are about 1,000 held under the country's anti-terrorism proclamation, including high profile leaders from the opposition.
However, there are another 5,000 cases still pending, made up of those arrested after a state of emergency was declared in October 2016, he adds.
Will they actually be released?
The government has given no timeline on the release of the prisoners – including those still awaiting trial – or explained exactly who is considered "political" and who is not.
—
Join the conversation on Twitter and Facebook.